Pokemon Light Platinum is a GBA Rom Hack based on Pokemon FireRed. It has 2 new regions, Pokemon from Gen 1-5, new sprites, new tiles & a Pokemon World Championship.
Download Pokemon Light Platinum GBA ROM
Creator: Wesley FG
Version: Plus / Final
Hack by: FireRed
Updated on: February 25, 2017
Be sure to check out Pokemon Zenith
Plot
You wake up in a mysterious place and witness a battle between Arceus, Dialga, Palkia and Giratina. "This must be a nightmare," you think. Where are you and what's going on here? When the dream ends, you appear to be at your house, but you receive a message that the professor needs your help. Only you know the secret alpha language, a language you inherited from your father. It is the only key to solving the problem. Has this dream had any impact on your world? Get a Pokémon, travel the world and save it before it's too late!
Features
New regions – Zhery and Lauren
New Gym Leaders and Elite Four
New rivals
Pokemon from Johto, Kanto, Hoenn, Sinnoh and Unova
All Legendary Pokemon
New sprites and tiles
New Final Event – Pokemon World Championship
version differences
The final is the last official version. Plus is a mod by LCCoolJ95 that adds the physical and special split along with new pokemon and moves. Here you will find more information. Note that the last event (the World Cup) does not work in the Plus version.
Screenshots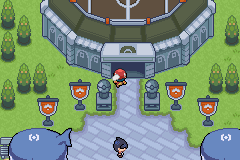 Useful Stuff
Download
Credits

Wesley FG, Myutsu, Peyi, Kyledove, Zelda, GSC platinum, Alistair, Saurav, Shiny Lugia, Dewitt, thethethe, Lu-oH, Zel, Serg!o, Xoros, Mastermind X, Ruka Prince, Ash493, Snakebyte