Mega Moemon FireRed is a GBA ROM Hack by Septentrion based on Pokemon Fire Red in english. And it is now available to download. It was last updated on August 16, 2023.
Download Mega Moemon FireRed GBA Rom Hack
| | |
| --- | --- |
| Creator | Septentrion |
| Version | v1.4b |
| Hack of | Pokemon Fire Red |
| Updated | August 16, 2023 |
Description
Moémon is a project that brings to life cute sprites of Moé Gijinka, human-like characters based on the species found in the Pokémon world, we strive to make the best Moémon sprites with the best designs we can as well as aiming to keep our quality standards high. Moémon Mega Fire Red's goal is to be an enhaced version of Pokémon Fire Red, but we want to be more than just that and we plan to expand and remake some parts of the region to make the game more interesting, as well as using modern mechanics and giving more content to the player.
Right now we want to make Moémon sprites for all existing generations, hence why we need to be able to make a game that can contain the most we can. Giving that way the player the biggest quantity of options possible. While there is still a lot of sprites to be done, we will get there over time, thanks to our hard working artists.
Features
Fairy type
Double encounters
Mega evolution
300 Moemon from 5 generations
Physical/Special split
Almost every trainer updated to use different mons and moves
Reusable TMs
Added in v1.4b
New Title Screen, Icons & Visual Elements
229 Updated Sprites!

106 New Returning Species Designs
12 New Legendary Encounters
63 New Species
5 New Megas

Now Featuring Event Mons!

How to redeem Summer Lapras: Talk to the character near the PC at any Pokemon Center and insert the password "SUMMER23" (Only available after acquiring 7 badges)

6 New Areas to Explore
Regi Trio + Regigigas
Optional Ash Version
Chase Mew around Kanto as a Roaming Pokemon
Added in v1.3c
30 New Species
10 New Megas
100+ New Sprites
Screenshots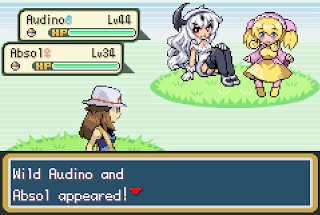 Download
Credits
Septentrion, Pokefreak890, MrDollSteak, Azurile13, FBI, Karatekid552, Gamer2020, TheDarkdragon11, Spherical Ice, M.Hussain, Pandirocks @17, sdw7sm, Maize