Pokemon Myth is an RPGXP Fan game made using Pokemon Essentials and RPG Maker XP by falcary. And it is now available to download. the latest update was on January 2, 2023.
Download Pokemon Myth RPGXP Fan game
Creator: falcary
Version: v 4.0
Updated: January, 2, 2023
Progress: Up to the 7th gym
Also, be sure to check out Pokemon This Gym of Mine.
Story
"A trainer who truly tries their hardest, will always succeed in the end, despite the amount of evil they face…"
The Pokemon Myth revolves around proving oneself by overcoming challenges and earning the trust of fellow trainers. As a 15-year-old from Courmine Village, the player must strive to become the new Pokemon Champion and demonstrate their worth to everyone. Along the journey, the player encounters many powerful trainers who recognize their potential and seek their aid against Team Corrupt. This nefarious organization, led by an anonymous figure, seeks to harness the power of the two Mythan Region gods, Arceus and Mew. The player must navigate treacherous locations like the Mythic Forest and Lost Temple to ultimately defeat Team Corrupt, conquer all eight gyms, and become the Pokemon League Champion, proving that they have what it takes to succeed.
Features
New megas
New forms
Loads of Fakemon
Star-Face shiny variants
Player-controlled gyms (Our community gets gyms based on them!)
2 Regions with massive exploration (Plus Sinnoh and Unova)
Custom mechanics
New moves
New items
New types
New Eeveelutions and Megas!
And more!
Screenshots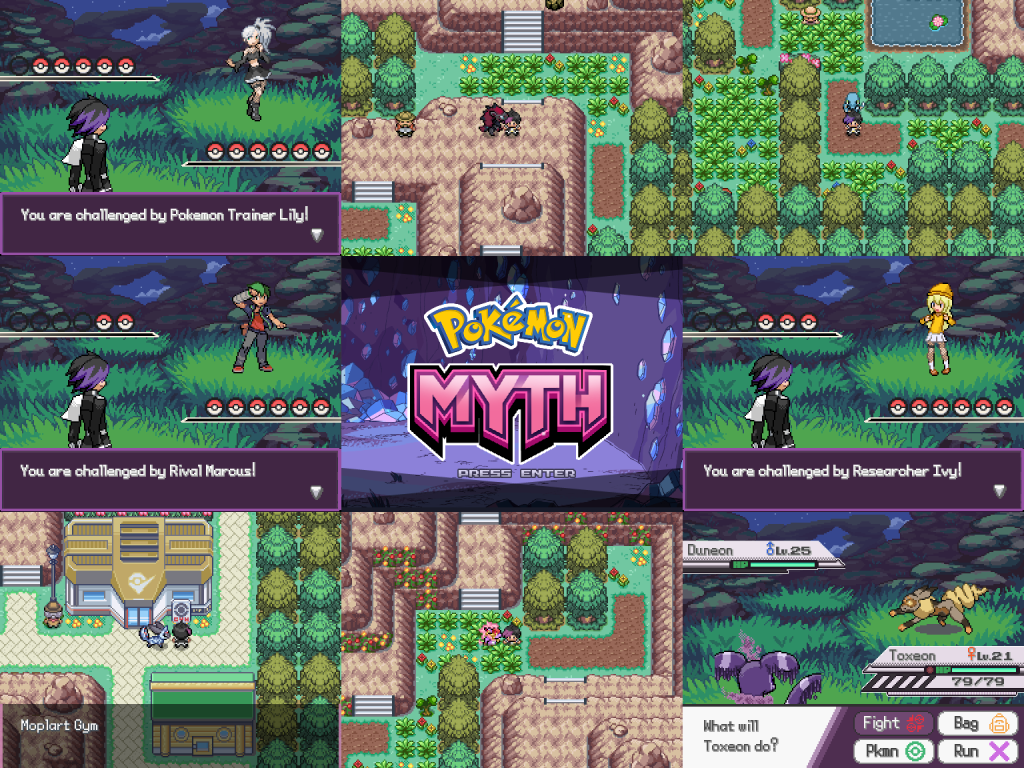 Download Link
Credits
falcary, Fenrir, Blade, MultiDiegoDani, BiggusWeeabus, Hypur, Valkary, Purple, Alex, Jobless Music, Izu, Productiepoes