Pokemon AlteRed is a GBA Rom hack of Pokemon FireRed where all the Pokemon have been replaced with alternate forms. And it is now available to download. It was last updated on April 7, 2023.
Download Pre-Patched Pokemon AlteRed GBA ROM Hack
Creator: kingfin128
Version: v2.1
Hack of: pOKEMON FireRed
Updated: April 7, 2023
Be sure to check out Pokémon Unova Emerald as well.
Characteristics
411 Original Pokemon in Old Form (Link)
Adjusted level curve and difficulty
Split into physical/special (no icons)
Move Deleter, Move Reminder and Name Rater on the second floor of each Pokemon Center
Moves from all eight generations and even a few brand new moves thrown in
Currently known bugs
Mewzero doesn't obey commands due to a bug in the game.
The city map was not properly updated to include the new areas; it is not recommended to fly from these locations.
The Ice Fang and Ice Shard moves can be used unintentionally on the field.
The graphics in the pause menu are slightly garbled, but the text is still readable. Marked as low priority.
The Pokedex can also be very tricky; it is recommended to save before browsing.
The NPC Cue Ball Paxton will crash the game if fought; his fight has been removed, but one should beware of any mischief upon arrival at the Three Island.
If you have any further issues, contact developer Kingfin128 on Deviantart, or leave a message on the talk page of this site.
Screenshots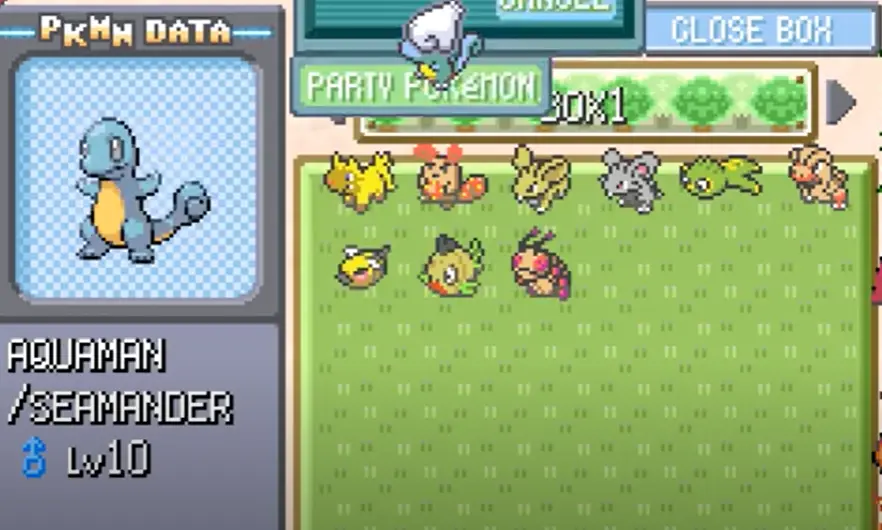 Download
Mirror
Credits
kingfin128