Pokemon Azume is a FanGame by Tomix9tomix made using Pokemon Essentials for RPGMakerXP. And it is now available to download. It was last updated on 2021-03-28.
Download Pokemon Azume RPGXP FanGame
| | |
| --- | --- |
| Language | English |
| Creator | Tomix9tomix |
| Version | v1.3 Completed |
| System | RPG Maker XP |
| Update | 2021-03-28 |
Premise
One day, you are visited in your dreams by a voice telling you to meet it at the Sacred Grounds.
This is the beginning of your fate, your fate to save the world.
Also, be sure to try out Pokemon The New Order.
Features
An exciting 2-3 hours main story, taking you to many different locales.
A new pokeball called the "Reverseball" It calculates catch rate using your pokemon instead of the opposing pokemon!
HM items for Cut, Surf, Strength and Waterfall!
Many places to explore and secrets to discover.
All the Sinnoh Legendary and Mythical Pokemon available for use, can you find them all?
Notes
First off, any questions or anything, feel free to message me or on discord @Tomix9tomix#8625.
If you want clues for how to find certain legendarys, I'm happy to give hints.
Now some more personal notes:
Making Pokemon Azume has really been a journey for me, I've never felt so pressured in a game jam before, and that's saying something considering this is my 5th game jam! This game really took a lot out of me, but I'd like to think that's because I put a lot into it. I really think I can be happy with Pokemon Azume , looking at it right now, I'm happy with how it has turned out, I got to make the vision I wanted without cutting any corners. I say this every jam, but I think I mean it this time, unless I suddenly become dissatisfied with this game (which is totally possible), I think this will be my last fan game. I did sort of make this game a "best of", by incorporating parts of my other fan games that I like.
I hope you enjoy this game, it's been a ride.
Screenshots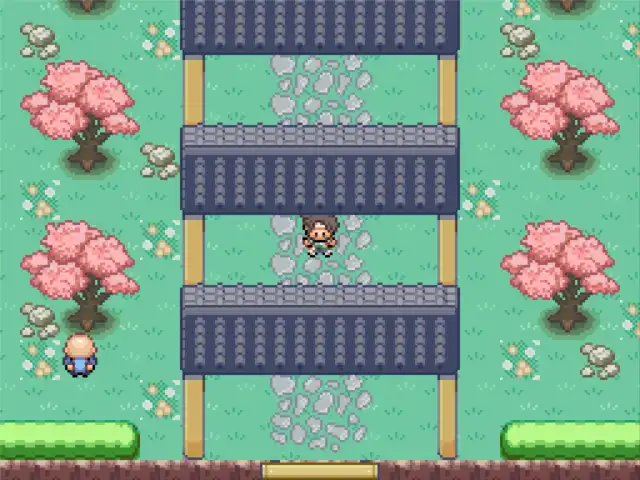 Download
WARNING
PLEASE DO NOT PLAY WITH YOUR OWN IMPORTED FAST FORWARD SCRIPT
Pokemon Azume uses Looping music so that the BGM smoothly continues, however this means that the fast forward script cannot be used. It will cause the game to crash randomly. If you insist on editing the game and importing the fast forward script. Please save very often as fast forwarding will cause frequent crashes.
Resource Pack:
Made by
Tomix9tomix/CloonieKing: Lead dev, mapper, eventer, and just putting everything together
Monika: Head Artist and co. dev. Trainer sprites, overworlds, animations, and titlescreen
Papurika: Protagonist designer and the best emotional support I could ask for
AceGamerAndy: overworld and tileset artist