Pokemon FireRed Extended is a GBA ROM Hack based on Pokemon Fire Red in English. And it is now available to download. It was last updated on March 20, 2023.
Download Pokemon Fire Red Extended GBA ROM Pre-Patched
Creator: DjTarma
Version: v3.4.5
Hack of: FireRed
Updated: March 20, 2023
FireRed Extended is a Kanto region rework with a slightly bold proposition:
All Pokémon from the first to the eighth generation are available to catch!
This project is recommended for people who have never had the opportunity to play Pokémon.
Some people know Pokémon anime, so this project is an excellent choice to get the first experience for that audience.
As I said, our journey will be in Kanto only.
Unlike Pokémon FireRed Vanilla, we will not have access to the seven islands.
Also, be sure to try out Pokemon Infinite Fusion!
recommended emulators
Android OS : MyBoy (The best choice), PizzaBoy. DO NOT USE JOHN GBA OR OTHER EMULATORS.
IOS : Happy Chick, Provenance Emu, RetroArch (Using the mGBA's architecture). DO NOT USE ECLIPSE OR OTHER EMULATORS.
Windows : mGBA (The best choice), VBA. DO NOT USE VBA-M.
Characteristics
Pokemon from Gen 1-8 (Kanto to Galar).
Custom level for starter evolution.
Certain Pokemon can be evolved using Link Wires.
All in-game fonts have been redacted.
HUD & updated layouts for better experience.
Added IVs, natural display & inserted PSS symbols.
Unique events (some legendary events are missing).
Certain evolution methods of male/female Pokemon.
Party specific development (Remoraid + Mantyke = Mantine).
Advanced evolution guide with game file download.
Custom Wormhole System & Side Stairs GFX.
Dive Maps for more exploration & some incomplete events.
Revamp Map's GFX & Custom Battle Background's GFX.
Advanced Move Tutor for $2000 in any PokeMart.
Replaced Elite Four with the Ultimate Pokemon League!
field moves. (Cut, Fly, Surf, Strength, Lightning, Rock Smash, Waterfall, Diving, Digging, Sweet Scent, Rock Climbing, Digging, Headbutt, Drillrun, Bulldoze, Steal, Growth).
New fossil revival system for Gen 1-8 fossils (steal on walkers/use digging in certain maps).
Safari Zone expanded to $4000 (does not count steps + 60 Safari Balls)
What's new : v3.4.5
Cinnabar Island GYM has been revamped:
All questions have been revised.
All Gym Trainers have leveled up their Pokemon Group (Same goes for Viridian City Gym).
Pokemon League:
Fixed an inconsistency in the Pokémon League entry check script!
Blocking was experienced by some MyBoy/PizzaBoy emulator users.
Cards:
Fixed an issue on the Palmer Beach map (the player has a black screen when entering the map, thereby losing progress).
Miscellaneous:
Many reworks are in the works, such as study sets, trainer tower and improvements to several maps.
Screenshots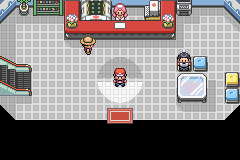 Download Links
If you want to find out about the latest progress and changes or report bugs, you should join the official Discord server.
Credits