PokeScape is a GBA ROM Hack based on Pokemon Emerald by Demonheadge in English. And it's now available for download. It was last updated on March 24, 2023.
Download PokeScape GBA ROM Hack Prepatched
Creator: Demonheadge
Version: March 24, 2023 release
Hack by: Pokemon Emerald
Updated on: March 24, 2023
Description
PokeScape is based on the MMORPG RuneScape. This hack features a story revolving around the evil team HAM, the Chaos Elementals and monster vs. monster championships. The hack contains over 900+ custom RuneScape monsters that replace Pokemon.
Also, be sure to check out Pokemon Ultimate Fusion.
Screenshots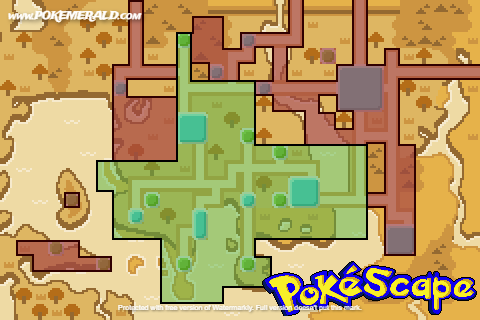 Characteristics
Games in the world of Gielinor. Inspired by all eras of RuneScape.
2 game modes, open world and story mode.
Over 900+ custom RuneScape monsters.
Over 100+ trainer sprites & 200+ overworld sprites
Many unique branching evolutionary lines. Including new evolution methods!
Battle engine that includes all Pokemon moves and abilities up to Gen 7.
New custom moves and abilities based on RuneScape.
New custom items based on RuneScape.
Physical/Special/Status split
Breeding mechanic that allows two different species to be bred together.
Custom music for each city and route.
Experience a story centered around the evil team HAM, the Chaos Elementals, and the monster vs. monster championships.
mega evolution.
& Much more.
Useful Stuff
PokeScape Download Links
PokeScape currently contains 3-4 Playable Gyms. But it has many other contents to explore along the way which should be a good few hours of Gameplay if not rushing.
Open World mode is also still a work in progress, where the only thing that will scale up the trainers & wild mon levels would be obtaining a gym badge.
Known Bugs
SAVE YOUR GAME OFTEN!
-Randomly while playing when your monster faints the game soft locks.
Some Shiny mons when viewed in the summary screen crash the game.
More Bugs and known issues can be found in their Discord.
Credits
Demonheadge – Project Lead/bit of everything.
HyperStan – Art/Trainer/Monster Sprites
RuneScape ReOrchestrated – Music
MrKalius – Website
Ryu Saint, Lopendebank, ImcandoBrett, Gentleshen, PippinSmith, Sudo Bash, LukeinLight,
…and many more that have contributed in one way or another including stats, story, feedback, sprites/art, etc.