Pokemon Ultimate Fusion is a GBA ROM Hack based on Pokemon Emerald by Migueon22. is now ready for download. Its most recent update was on August 19, 2022.
Download Pokemon Ultimate Fusion GBA ROM Pre-Patched
Creator: Migueon22
Version: Completed v1
Hack of: Pokemon Emerald
Updated: August 19, 2022
Also, be sure to check out Pokemon Infinite Fusion!
Story
Embark on your journey from Littleroot town, where you rescue the local professor and are granted a starter Pokemon as a token of gratitude, just like in the original Pokemon Emerald.
However, in Pokemon Ultimate Fusion, all of the starters are unique fusions of two different Pokemon, as are all other Pokemon encountered throughout the game.
This Emerald hack offers a fresh experience with minor improvements to enhance gameplay.
Features
Fusion Pokemon.
Revamped Trainer Teams.
Updated Stats & Moves.
Some Minor Changes.
Screenshots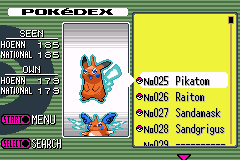 Download Links
Pokemon ultimate fusion pokedex
FAQs
What emulators do I use?
Primarily, we recommend using mGBA on PC, MyBoy!, on Android, and iOS we suggest RetroArch
How do I evolve this Pokemon?
Every Pokemon is a level evolution