Pocket Monsters Scale x Fang is a GBA Rom Hack by ocean based on Pokemon Emerald in English. And it is now available to download. It was last updated on January 25, 2023.
Download Pocket Monsters Scale x Fang GBA Rom Hack
Creator: ocean
Version: Demo v1.0.2
Hack of: Pokemon Emerald
Updated: January 01, 2023
Story
20 years ago, an army of beasts ravaged the Ohkai region. But just as the beasts were about to approach the capital, Valenta City, they suddenly retreated. In the present, a company called XACCESS has brought about major technological advances and a miraculous recovery for the Ohkai, once ravaged by destruction and despair.
The protagonist is personally recruited by XACCESS to join the "Task Force", a special department that carries out all sorts of interesting, amazing and secret missions. However, there are people all over Ohkai who distrust XACCESS and cause problems that pose problems for them and the Task Force. At the same time, XACCESS seems to have many secrets under the hood. What exactly does XACCESS hide? What is the aim of the insurgents? And why did the beasts suddenly disappear?
Also, be sure to try out Pokemon Adventure Blue Chapter!
Features
A completely new story that breaks away from the usual formula.
A new region to explore – the Ohkai region.
A custom soundtrack with many, many new songs.
Many new Pokémon, including evolutions to existing Pokémon.
New moves and abilities.
Raising Pokémon is simplified – there are no IVs or nature stat boosts.
The Revophone, which allows you to play music, call other characters, and more.
Improvements to the battle engine to better match the latest generations.
Complete revamps of UI elements across the game.
Many optional areas to explore.
Improvements to the battle engine to better match the latest generations.
Honey trees and Berry trees.
Decorate your apartment with all kinds of interesting items!
You can ride a Moped to traverse terrain in a different way.
Your Pokémon can destroy objects without HM moves thanks to the Poké Pager.
Pocket Monsters Scale x Fang Changelog:
Pocket Monsters Scale x Fang v1.0.2 (2023.01.01)
– Mystroll, Gigantroll moveset changes
– Fix Mama Judy healing bug
– Encounter rates lowered throughout the game
– Repels now buyable at the Pokémon Center after first visit to Mellow Meadow completed
– Revives now buyable at the Pokémon Center after visit to City Sewers completed
– Fix collision of flower in Valenta City
– Fix collision of cliff in Mellow Meadow (south)
– Fix visible border in Topglace Tundra
– Fix incorrect Swimmer sprite on sunbed at Lockshore Beach
Pocket Monsters Scale x Fang v1.0.1 (2022.12.30)
– No longer check emulator on boot, so you can play with any emulator including VC injects
– Fix 'XACCESS OFFICCES' mispelling on desk
– Fix shop sign collision
Screenshots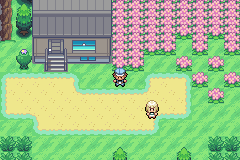 Download
FAQs
What emulator should I use?
I recommend playing on real hardware with a flashcart, creating a 3DS Virtual Console inject or playing on any emulator using an mGBA core. Any other emulators (such as VBA) are not recommended as they have serious inaccuracies. Reporting bugs with inaccurate emulators leads to me not being able to reproduce issues and thus fix them.
When will the full game/next demo be released?
I would like the game finished by the end of 2024, but don't ask me or anybody else about release dates.
How many Pokémon are implemented?
There are about 110 Pokémon implemented into the game, with around 60ish of these being Fakemon. Not all Pokémon are currently obtainable in the wild, and not all have access to their evolution methods with the tools you can find in the demo.