Pokemon Eternal Coliseum is a Pokemon GBA ROM Hack based on Pokemon Fire Red in Spanish. And It is now available to download. It was last updated on August 14, 2023.
Download Pokemon Eternal Coliseum Pre-Patched GBA ROM Hack
| | |
| --- | --- |
| Creator | blaiken |
| Version | Demo |
| Hack of | Pokemon FireRed |
| Updated | August 14, 2023 |
| Language | Spanish |
Also check out Pocket Monsters Scale x Fang.
Summary
You take on the role of the protagonist in the Kanos region. Accompanied by your friend and your Pokémon, you will embark on a journey to uncover the truth behind the attack on your birth parents 16 years ago. This incident occurred when you were a small child, and you were subsequently adopted by a family in the picturesque town of Vega. Here you'll meet Professor Sonic, the region's renowned expert, as well as some of the friends you've made in town.
Now you are 16 years old, the same age as your boyfriend, and you both want to set off on an expedition through the region. Before you leave, you and your friend make a solemn promise to each other – to see the misfortune through to the end and finally find out the fate of your parents.
As you travel, you must face the challenges the region has to offer in order to find out the true reason for these events. This includes collecting all eight gymnastics badges and battling the enigmatic Jolt Team, a nefarious group that has left you with questions about your parents and every aspect of your life. Their obvious dangerousness made you suspicious.
Trainers from various other regions will also come together, driven by the desire to discover the truth and thwart the evil team's plans, which revolve around harnessing the inner power of the Pokémon they possess.
Are you ready to begin your adventure in this captivating region?
Features
New Region [Kanos]
Mega evolutions
New order in the Pokédex
Riolu as starter
New rivals
New gyms
New story
TM reusable
forgettable MOs
Meeting with familiar characters
New graphics
Screenshots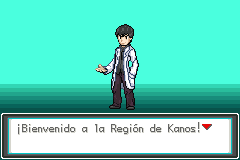 Download
Credits