Pokemon Resolute is a GBA ROM Hack by Wind1158 reimagined Pokemon Emerald storyline, featuring new regions, Pokémon, and challenges. And it is now available to download. It was last updated on August 18, 2018.
Download Pre-Patched Pokemon Resolute GBA Rom
Creator: Wind1158
Version: v2.83
Hack of: Pokemon Emerald
Updated: August 18, 2018
Introduction
Logan/Alma is a trainer who lives in Cedar City. One day, Professor Avery asks him/her to find and record data about every Pokémon Logan/Alma meets. He/she will travel throughout the region with his/her best friend Elijah. When they try to go to Solar City to meet Professor Avery, they run into Team Mirage. Team Mirage was very active in the Tyron region 1 year ago. However, it was dissolved. Now Team Mirage is back. The members of Team Mirage tell Logan/Alma that they want to help people in the future. Why did they reorganize Team Mirage? Should Alma/Logan trust them? It's time for Logan/Alma to find out what's happening in the Sylon region on his/her journey.
Also, be sure to check out Pokemon Insurgence Download Mac.
Features
New regions, new gyms (of course)
3 regions (Sylon, Tyron, Johto)
Combat Division – A place where trainers from all over the world can fight.
Some 4th and 5th generation Pokemon, about 33 6th generation Pokemon and 5 7th generation Pokemon.
Some new tiles (maybe a bit rough, it's not easy to draw them…)
Mega Evolutions
Alolan Vulpix and Alolan Ninetales
LEGENDARY LOCATION
Cobalion: Umber Path(after event in sky castle)
Virizion: Cloud Forest(after event in sky castle)
Terrakion: Grass Path(after event in sky castle)
Rayquaza: Sky Castle(after event in sky castle)
Genesect: Sky Castle(after keldeo event in sky castle)
Xerneas: Fairy Forest(brown lake)
Yveltal: Sky Hill(east of Lithopone Ferry)
Zygarde: hiden cave in Mt.mortar
Meloetta: mission in bronze tunnel
Tornadus: Windy Cave
Thundurus: Shale Tunnel
Landorus: Sandy Villa(need rock climb)
Heatran: event in Tyron
Mew: High Edge Fall
Mewtwo: Greenland Cave
Regigigas: final event in Tyron
Reshiram/Zekrom: Dragon Den(final mission)
Celebi: Ilex Forest(need Gs ball from mr.pokemon)
Ho-oh: Tin Tower(need Rainbow Wing from Guardian of Rainbow)
Lugia: Whirl Island(need Silver Wing)
Diancie: Crystal Chamber in Spiral Island)
Arceus:Cedar City/Pearl Villa.– Wave Path 每 Defeat the guradian 每 Umber Path/Navel Path 每 Mt. Infinitus
Magearna:Carmine Ruins(The password is:SOUL.HEART)
Screenshots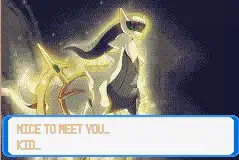 Useful Stuff
Download
Credits
1158, WesleyFG, Flamebot