Pokemon Metal Red is a GBA Rom Hack by romsprid Based on Pokemon Firered in english. And it is now available to download. It was last updated on 04.14.2020.
Download Pokemon Metal Red GBA Rom Hack
Creator: Romsprid
Version: Completed
Hack of: Pokemon FireRed
Updated: 04.14.2020
Also, be sure to try out Pokemon Psychic Adventures.
Description
Pokemon Metal Red is a new Pokemon FireRed Hack with the same story but with Brendan, Gigantamax, Gen 8 Pokemon, Mega Evolution, Ash Greninja, Galar Forms & much more to discover!
Features
900+ Pokemon
Alolan Form
Galar Form
Gigantamax
Pokemon From Gen 1 to 8
Mega Evolution in Battle
Capture EXP system
Ash Greninja-z (give water stone to mega evolve in battle)
Mewtwo is replaced by Armored Mewtwo
Fairy Type
High difficulty
Reusable TMs
Reusable Pokeballs
New Rival (Brendan)
Some New Events
New Moves
New Abilities
Graphics Updated
Spirits Updated
Running shoes at the start
PSS System
Physical Special Split
Auto Repel System
All Legendaries in the safari zone for now
Gen 1 Starters but all Starters in the Game
Exp Share
New Stones ( Trade Stone, Ice Stone + all Mega Stones)
Pokémon that evolve by trade evolve by Trade Stone now
Every trainer has improved AI
Screenshots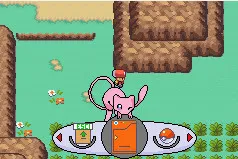 Download
Credits
Green Charizard, MrDollSteak, VersekrDark, Shippo, Delta123, NarenJr, Neon Skylar, Omega