Pokemon Victory Fire is a GBA Rom Hack by Wesley FG Based on Pokemon Emerald in english. And it is now available to download. It was last updated on June 10, 2023.
Download Pokemon Victory Fire GBA Rom Hack
| | |
| --- | --- |
| Creator | Wesley FG |
| Version | v2.65 |
| Based on | Pokemon Emerald |
| Updated | June 10, 2023 |
Also, be sure to check out Pokemon Dregs.
Story
Iron/Pure is a boy/girl who wants to become the greatest trainer in the Tyron region. One day, a Pokemon appears in his dream. It tells Iron/Pure it chose him/her. After waking up, he/she gets his/her first Pokemon and meets his/her new neighbor. His neighbor is an unfriendly boy named Uran. He doesn't train his own Pokemon. Instead, he uses each other's Pokemon. As Iron/Pure is about to leave his/her hometown, he/she sees Professor Ivan being attacked. The attackers are members of Team Mirage. Team Mirage is an active organization in the Tyron region. Nobody knows what they're up to. Iron/Pure will travel across the region to fight Team Mirage. And he/she will soon find out what Team Mirage is up to…
Features
New region, new gyms (of course)
New TYRON style trick house
Underground black market in Marble City
Some 4th and 5th generation Pokemon
Some new tiles (maybe a bit rough, it's not easy to draw them…)
Tools Used
ADVANCE MAP 1.92
ADVANCE TRAINER V0.9
UNLZ-GBA Beta1
CrystalTile2
PokemonTextMaster
OverworldEditorRE
FSF
XSE
DayAndNight – v1.0.2
and some more tools(I cannot remember if there's any other tools used)
Screenshots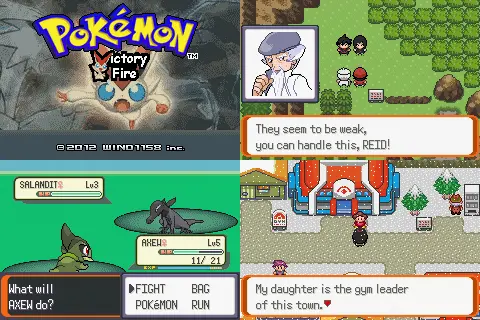 Download
Credits
Wesley FG- Some of the OWs in this hack are based on his OWs, and I used some of the Pokemon OWs.