Pokemon Better Than Better Emerald 2  is a GBA Rom Hack by Huplabombasnow based on Pokemon Emerald in english. And it is now available to download. It was last updated on November 25th, 2022.
Download pokemon better than better emerald 2 GBA Rom Hack
Creator: Huplabombasnow
Version: Completed
Hack by: Pokemon Emerald
Updated on: November 25th, 2022
Also, be sure to try out Pokemon CAWPS.
Story
Pokemon Better Than Better Emerald 2 is the sequel to Pokemon Better Than Better Emerald.
The story takes place 6 months after the events of the first part, in which you are invited to the Betreon region by its professor Jim Pittsburgh.
It soon becomes apparent that there are 2 flying Pokémon in the Betreon area, and this has caught the attention of a number of people, including Ian Four.
You have to play the game to see what happens next…
Features
80 new Pokémon
41 new regional forms
386 Pokémon to catch
Fairy types
New region
New characters
All new story
Unlimited TM usage
100% completable Pokédex with one save file
Bugs
Audio glitches in songs with certain instruments
A few textbox glitches
Minor tile glitches
Cutting trees through the Pokémon menu will crash the game
Game may freeze at one of the 2nd Elite Four member's Pokémon ???
Screenshots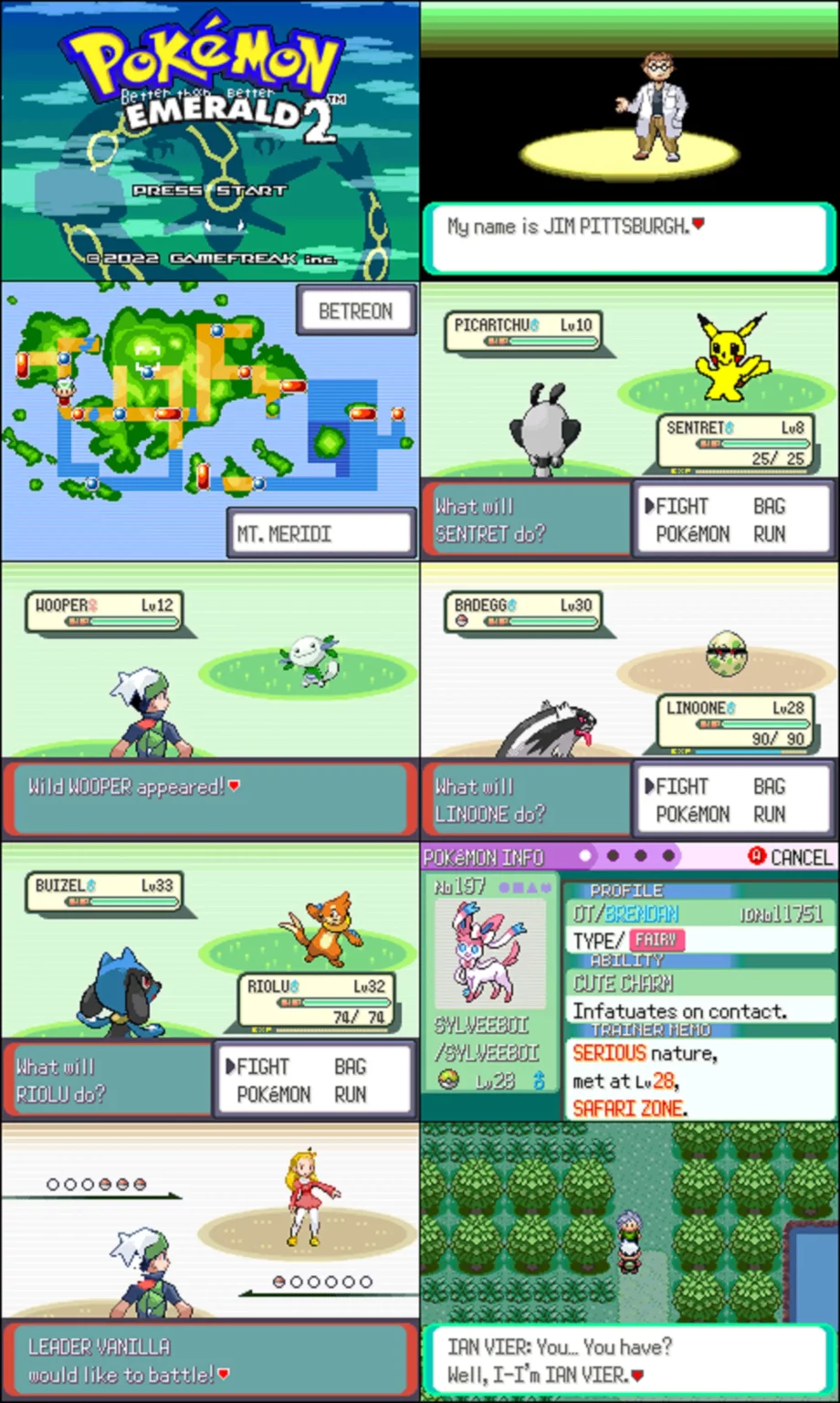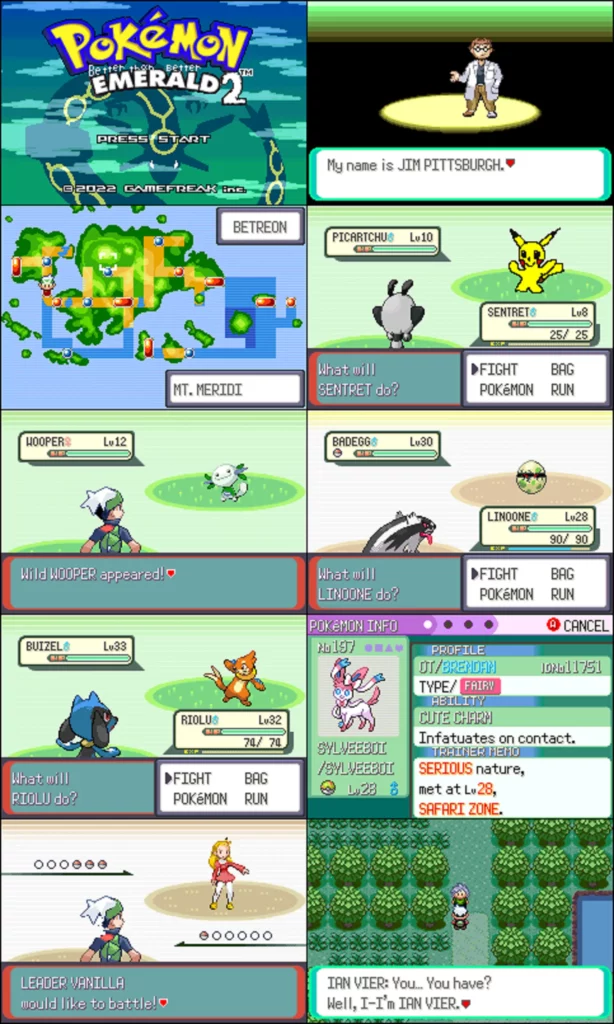 Download
Credits 
Pokémon Concepts
——————–
Hupla21
P0tat0pal
RenegadeNinja
TheUndergroundAnt
DualSheath
Surudramon
IcyFlares
MyButteredToast
Apprehensive_Ask6011
MapleKnightX
PolarBear_goodvibes
SpirtofBardock
purple-yellow
atomicq32
poppliolover2000
LuminothWarrior
Aura-Dog-151361
JackoLoch
ImStupidLmao2
1AceHeart
MrSnowBro19
ExpertChip46180
Mawilemawie
LeatherHog
MaroonVolley
PrimalNomad65
DragonTypeEnjoyer
catsgotswag
Lumi-M
Fussel2
spectrumtwelve
Hamburghrr
Pokémon Designs
———————
Hupla21
P0tat0pal (Blossnip/Frigem)
LuminothWarrior (Chirpal/Secrevary)
1AceHeart (Rhynaro/Woorino)
Spritework
———————
Hupla21
French-Cyndaquil (Galarian Meowth/Perserker, Obstagoon)
Kingofthe-X-Roads (Galarian Slowbro/Slowking)
Leparagon (Alolan Sandslash)
Hiraethe (Sylveon)
Map Creations
———————-
Hupla21
Text editing
———————-
Hupla21
Special Thanks to
———————-
GannonNotFromZelda
DualSheath
Surudramon
BrandiFlakes
RenegadeNinja
WhippedAlcremie
Midkoi
TheUndergroundAnt
Noom_Bean
P0tat0pal
The Sacred Realm (Discord)
DannyGGWP's Traitor Emporium
Hex Maniac Development Discord
Serebii.net
PokéCommunity
HackMew
Hex Maniac Advance
r/pokemon
r/PokemonROMhacks
The dedicated Pokémon Rom Hacking community