Pokemon Fire Gold GBA ROM Hack based on Pokemon Fire Red. now available for download.
Pokemon Fire Gold GBA ROM Download
Creator: Tzx211
Version: v1.2 (Completed)
Hack by: FireRed
Updated June 13, 2022
Pokemon Fire Gold is a base game of FireRed with the same tilesets but based on the Johto region. It's a very strange game because it's true that there are many Johto remakes like the famous Liquid Crystal or the recent hit GS Chronicles, but this one is unlike the others with the fiery red graphics and it's something we have never seen. At the end of the article you will find all the information about the game.
Characteristics
Goldenrod City Sales & Radio Lucky Number.
Added intense custom music.
Johto, Kanto & Mt Silver Completed!
Battle 16 Gyms and challenge the Elite Four of each region.
Wandering Legendaries & VS Seeker Trainers.
Bug Catching Contest & Apricot Pokeball Maker.
Fairy art, new moves, new skills and items.
Galarian & Hisui forms have been added to the game.
Cameo Events: Lake of Wrath Flooded & Dance of the Fairies.
Plans
The main storyline of the game is currently 100% complete. But the author plans to add side quests.
Add Gen 9 variants and Pokemon intended to appear in the Johto region such as Darumaka and Tornadus…
Screenshots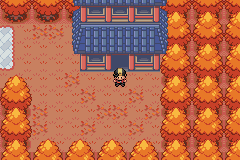 Download
Previous Versions