Pokemon Metronome is a Fan Game Made Using: RPG Maker XP and Pokémon Essentials in English. And it is now available to download. It was last updated on September 14, 2023.
Download Pokemon Metronome RPGmaker Fan Game
| | |
| --- | --- |
| Language | English |
| Creator | Emulissofun |
| Version | In Development |
| System | RPG Maker XP |
| Update | July 7, 2023 |
Intro
Immerse yourself in the enchanting world of Pokemon Metronome, where you embark on a tropical odyssey through the breathtaking Idona region. Here, limitless adventures await as you forge unbreakable bonds with an extraordinary cast of Pokémon, each a unique and unseen wonder waiting to be discovered.
Also, be sure to try out Pokemon AlexSMRPG 2.
Story
Two decades ago, the Idona Opera House organized a special competition known as "Idona Idol." Its primary aim was to discover the most exceptional Pokémon performers in the region and assemble an idol group. Among the participants was Bethany, a 14-year-old girl, who was deeply inspired. She decided to audition alongside her trusted partner Pokémon. However, despite her initial elimination by the judges, she remained determined to showcase her talent.

Over the ensuing years, Bethany had to bear rejection after rejection. In revolt against the music industry, she formed a unique ensemble she named "Team Opera." Interrupting the start of the Pokémon League battles in Goldspur City, Team Opera uses the Ocean Legendary's (Nymphotize) hypnotic singing to place the consciousnesses of those who listen into a connected chain of pleasant but fabricated dreams dubbed as the Perfect Paradise. Absent of all unnecessary suffering, in the Perfect Paradise, individuals can achieve anything they've ever wanted. Despite her selfish nature, Bethany's intentions for the region are relatively harmless but her methods are seen as very forceful and immoral… Due to the sudden disappearance of Idona's Mythical Sky Pokémon, you must seek the aid of the Desert Legendary (Gweavel) in order to prevent the entirety of Idona from entering a state of soulless slumber.
Features
126+ brand new never before seen Fakemon
Regional Forms
Following Pokémon
Day/Night Cycle
Seasons
Capitaving Story
Starter Pokemon
Idona draws its inspiration from the continent of Australia, resulting in a wide array of Fakemon that take cues from the region's wildlife, landscapes, and cultural elements, creating a captivating and immersive world.
BILLBLAZE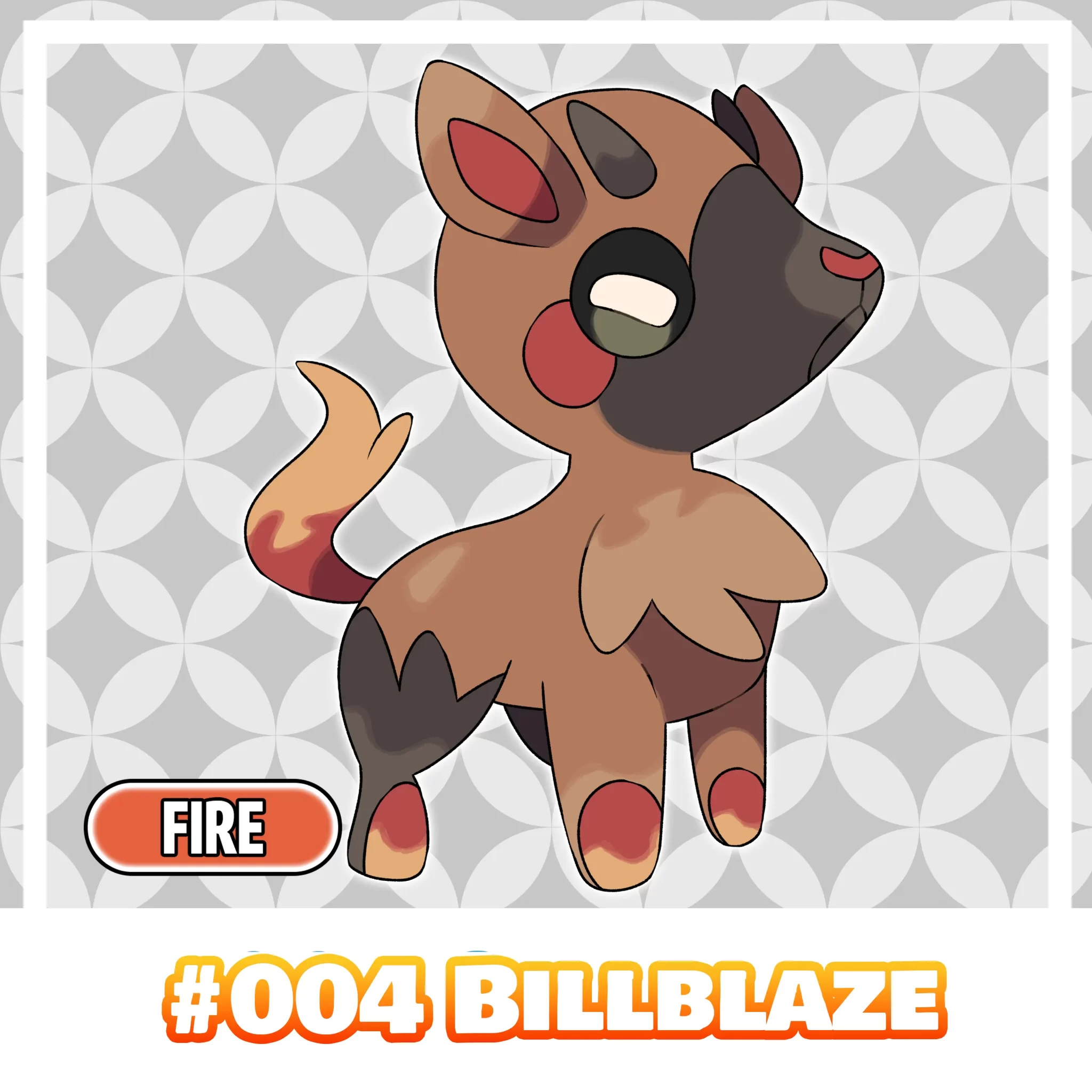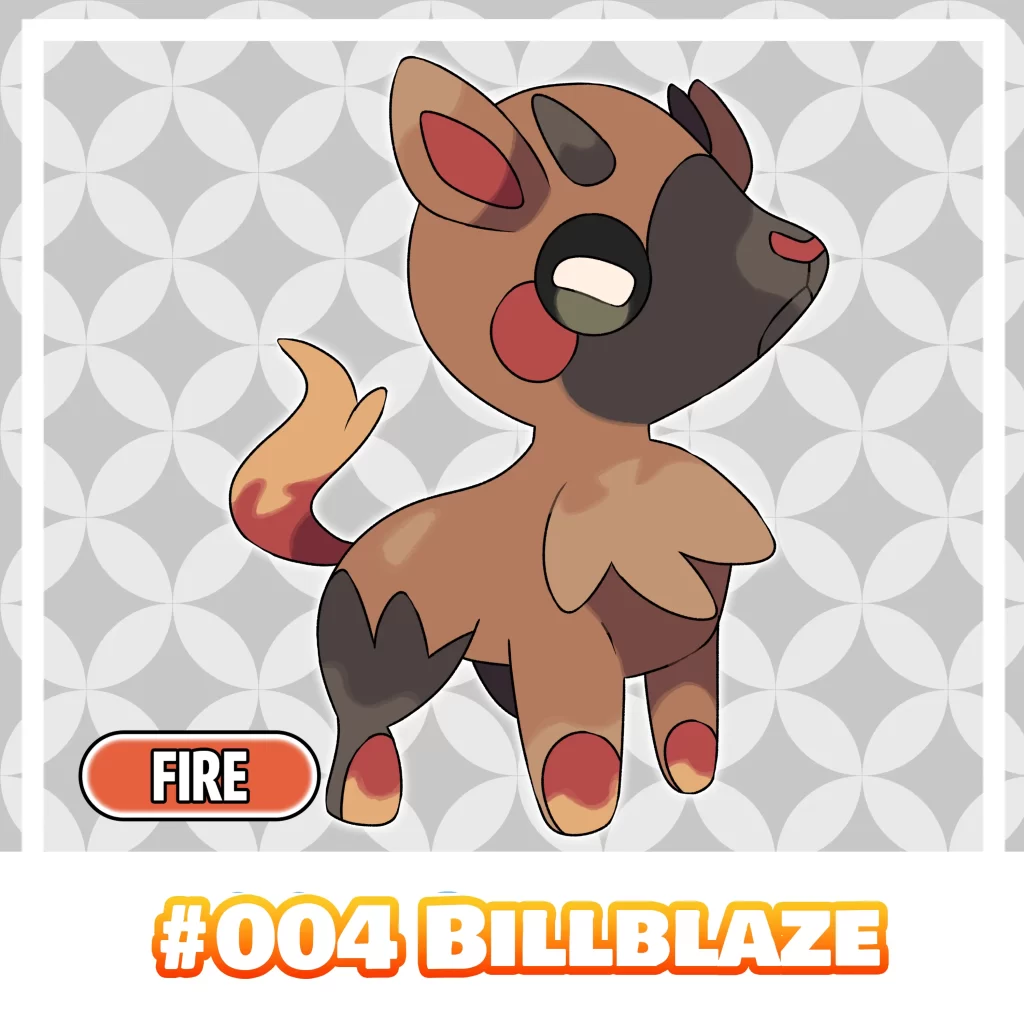 ---
The Fire Lamb Pokémon
Billblaze is never one to back down from a challenge and is always eager to engage in battles with any opponent it can find. Its boundless enthusiasm is both its greatest strength and its weakness, as it often charges headfirst into trees without a second thought. Despite its small size, Billblaze possesses impressive physical resilience.
TIDLEAF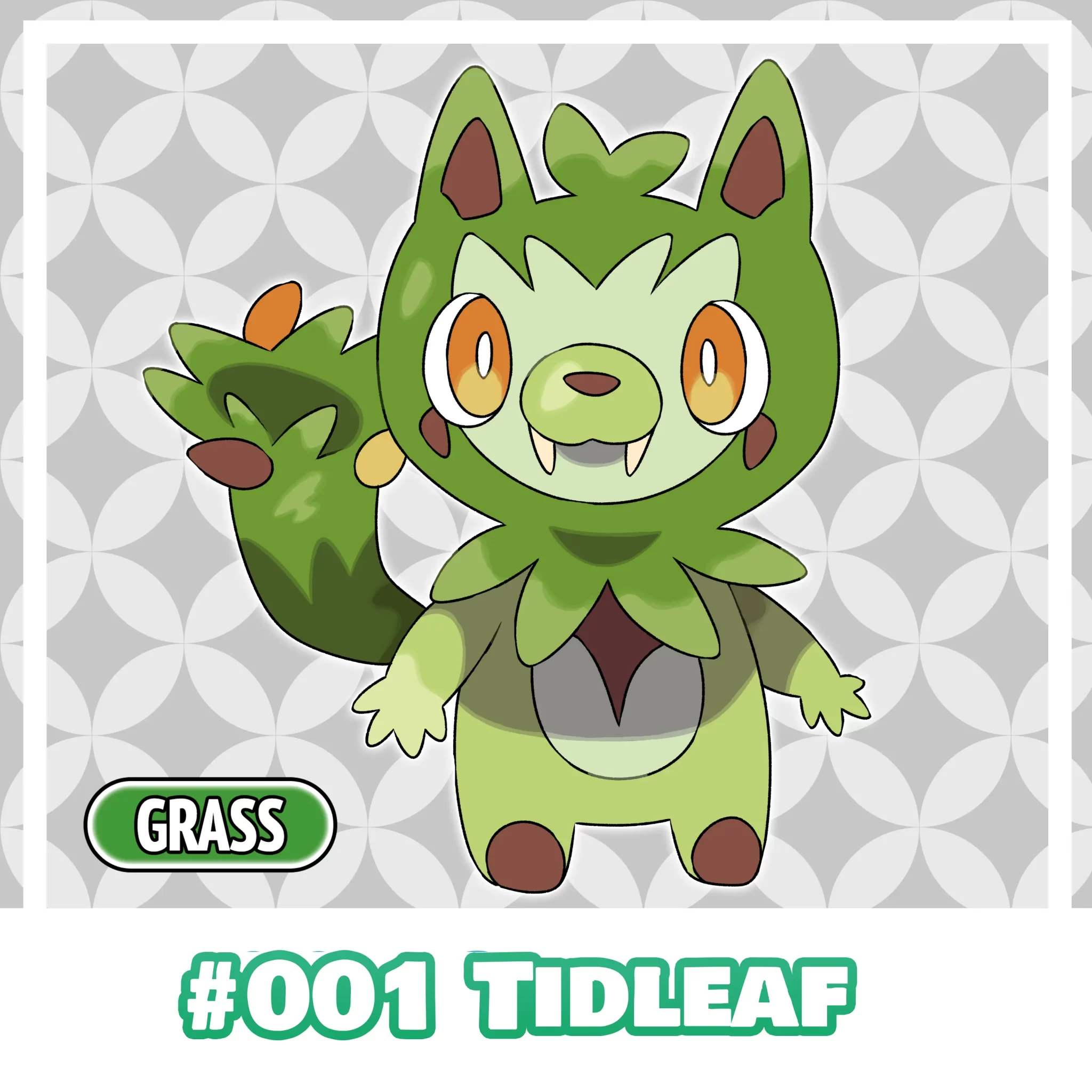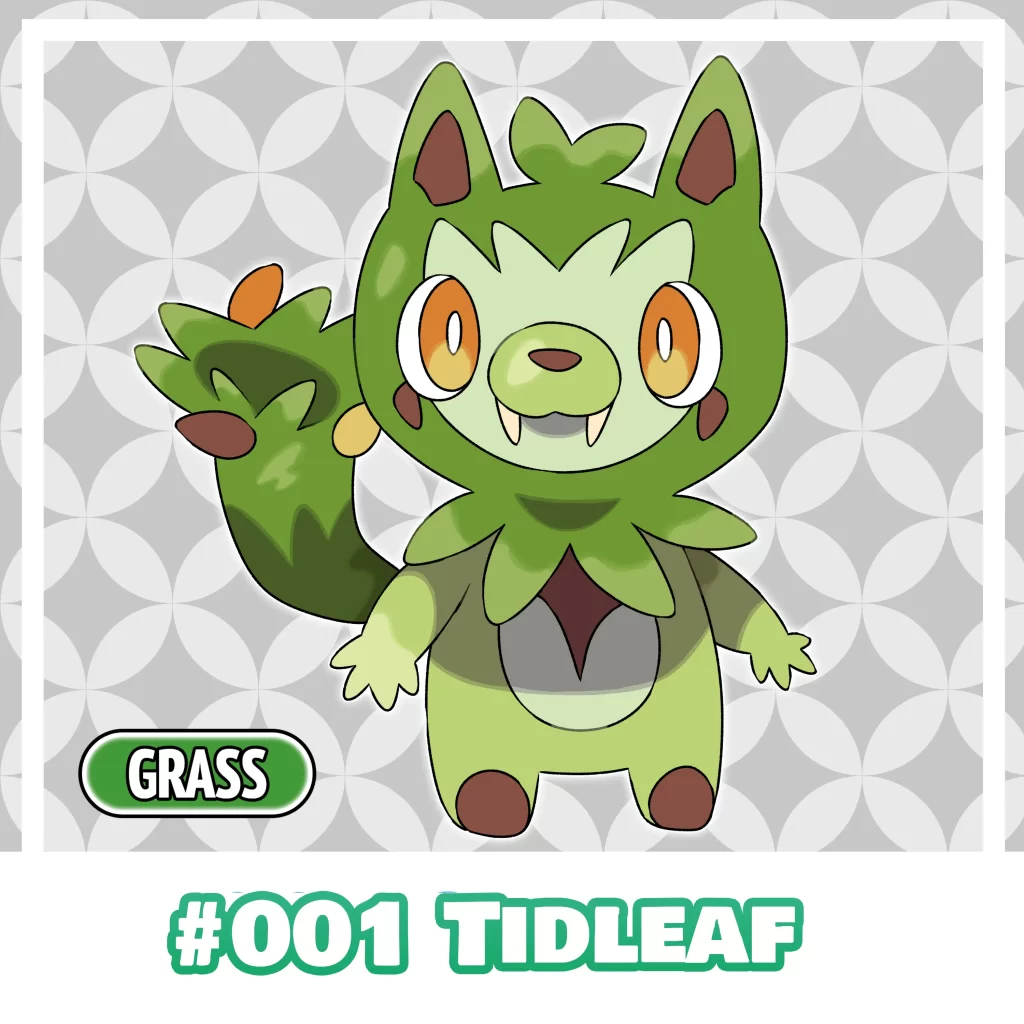 ---
The Cleaning Possum Pokémon
Tidleaf's most distinctive feature is its lush, leafy tail, which it uses not only for balance but also as a highly effective cleaning tool. With dexterity and precision, Tidleaf can meticulously sweep away dirt, dust, and impurities from various surfaces, making it an invaluable ally in maintaining a clean environment.
SKWAQUA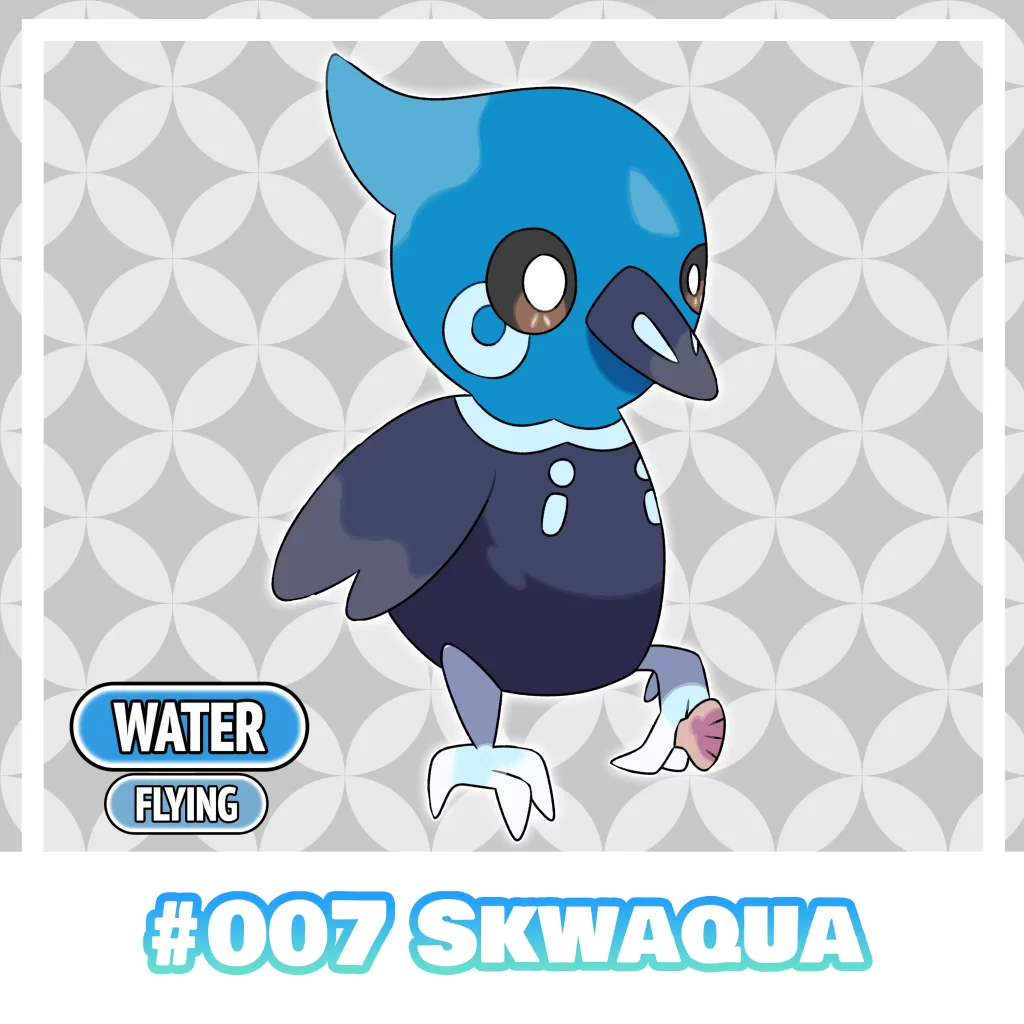 ---
The Collecting Pokémon
Every Skwaqua hatches from its egg clutching a seashell in its talons, and it is said to be a symbolic gift of friendship. Skwaqua shares this shell with its trainer, signifying the start of a close bond. Skwaqua's loyalty to its trainer is unwavering, and it will go to great lengths to protect them and their cherished shells.
The Idona Region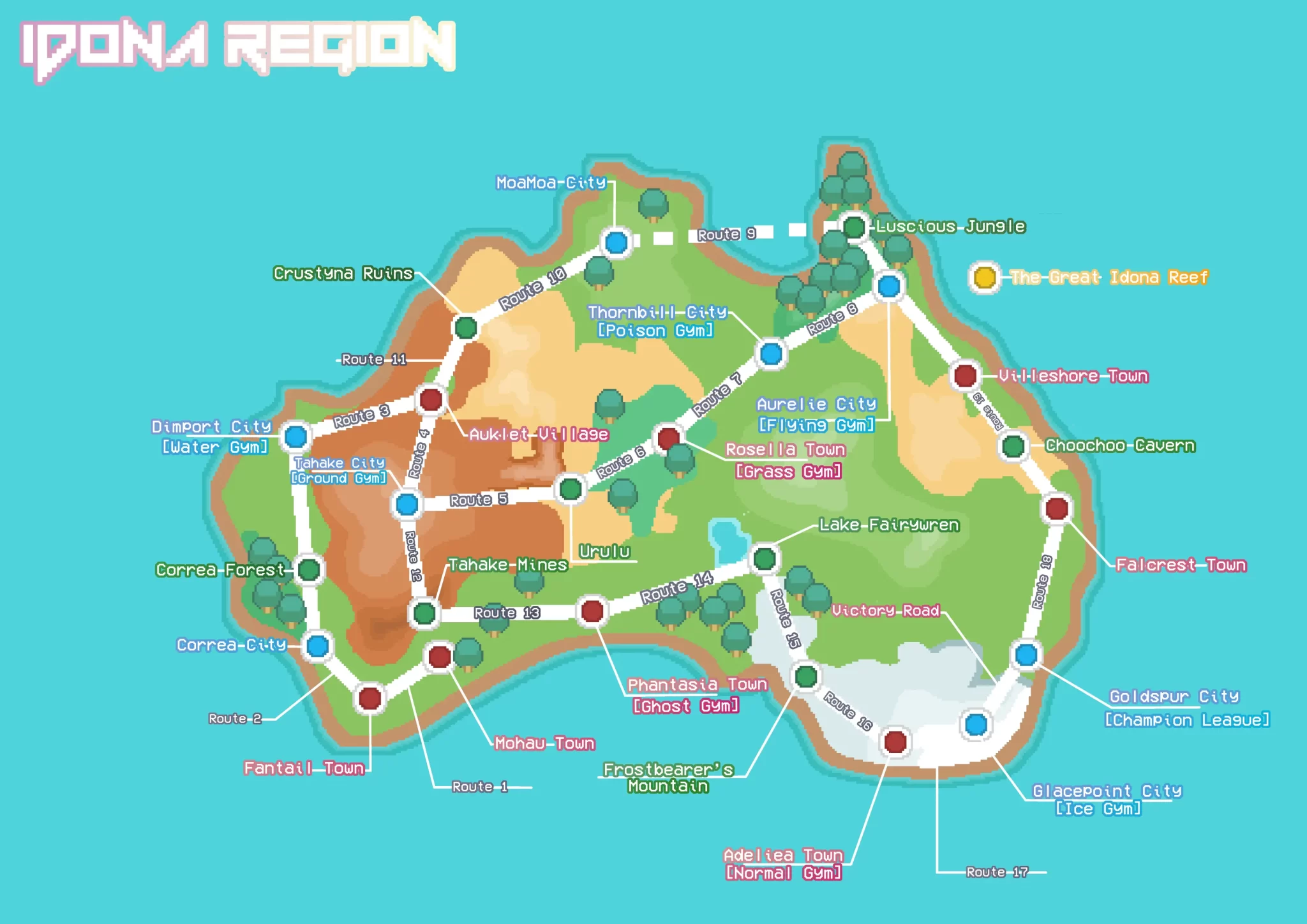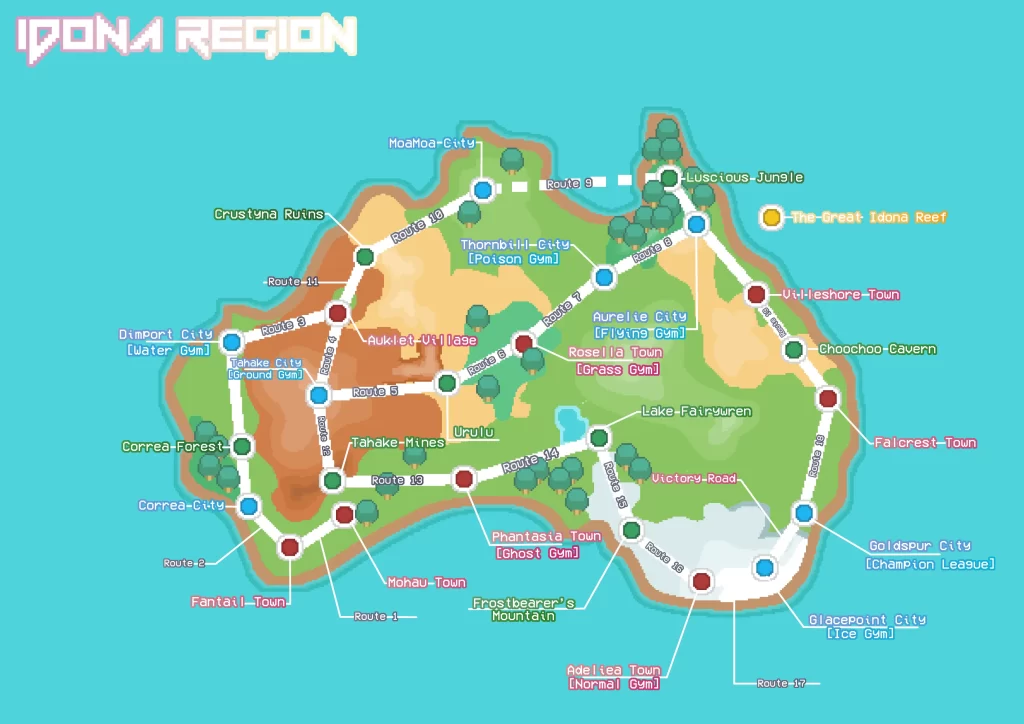 TOP 3 LOCATIONS OF INTEREST
Urulu
'Urulu' serves as the primary cave system in the Idona region, linking The Desert to the Grassland area. This extensive network comprises six floors, with one of them housing a legendary trio member. Urulu takes its inspiration from the real-world 'Uluru' mountain in Australia, adding a touch of natural wonder to the region's landscape.
The Great Idona Reef
male – Situated to the northeast of the map and east of 'The Luscious Jungle,' The Great Idona Reef is a vast and dynamic area that offers trainers a wide range of exploration opportunities. Here, you can embark on boat tours, ride the waves, and even dive into the depths below. The Great Idona Reef is a vibrant underwater world filled with a breathtaking array of colors, drawing inspiration from Australia's renowned 'Great Barrier Reef,'
Lake Fairywren
Lake Fairywren draws its inspiration from the enchanting Lake Hiller, and as its name implies, it is a mystical place inhabited by elusive and ethereal Pokémon. The lake itself shimmers with a delicate pink hue, creating a captivating sight. Its shores are adorned with an abundance of wisteria trees, which paint the surroundings in a stunning array of pastel colors.
Stay in touch with the Dev
Download
Conclusion
This Fangame and Page is a work in progress and we appreciate any support given, thank you for taking the time to read about your upcoming project! If you're itnerested in the Idona Region/ Pokémon Metronome, make sure to follow our new twitter for updates and fakemon releases