Pokemon Galaxy Emerald is a GBA Rom Hack based on Pokemon Emerald in english. And it is now available to download. It was last updated on May 08, 2023.
Download Pokemon Galaxy Emerald GBA ROM Hack
Creator: DarthBr
Version: 4.0
Hack of: Pokemon Emerald
Updated: May 8, 2023
Also, be sure to try out Pokemon Naruto Shippuden Advance Ninja Showdown.
Intro
Tired of playing new hacks that add many things but take away the originality of the original game? Would you like to relive your childhood by playing Pokémon EMERALD on upgraded systems, completing the POKÉDEX without trading, and evolving your Pokémon without connecting wires?
Pokemon Galaxy Emerald It's a QoL Hack ROM where you can catch all 386 Pokemon without trading or cheating. So well, It has some new features such as PSS System, the shiny rate is 255, Mirage island, all Deoxys forms, Lucky egg is 2.5 now, EV-IV Viewer, PP Up purchasable, and more… It's completed in English. And now, Let's play!
Features List
The Shiny rate is now 255 [You can collect Shinies more easily].
Physical/Specialty Department (optional).
All 386 Pokemon available (no trade).
Generation 3 Pokemon only.
Pokémon that can only evolve through trading are now available without trading (Link Stone).
Eevee now evolves into Espeon and Umbreon with the help of Sunstone and Moonstone.
TM's and Move Tutors on the map are reusable.
Most EVOLUTION STONES are available at the Lilycove Mart.
All in-game bartering has been changed.
Some held items have been changed (some items now work as Evolution Stones).
All Gen I-III berries are available.
Added KANTO FOSSIL RESTORATION CENTER in MOSSDEEP (Aerodactyl – Kabuto – Omanyte lv 25).
Fixed the furniture vendor in the Secret Base on the roof of the Lilycove Mart. It's not just coming out on Saturdays anymore, you can buy things whenever you want!
Added PP UP in the Lilycove Mart.
EV-IV Viewer (it has been placed in the MENU under OPTIONS).
Improved some Pokémon in the wild, more chances to find them.
Fixed some GYM LEADER moves.
Corrected some parties and levels of trainers, as well as movesets of RIVAL and .-BOSSES of MAGMA/ACQUA teams.
Added robust ability like newer genes (1HP tank).
Improved rough skin skill like the new gens (1/16 hp).
CAPT STERN gives you both SCALES (deepsea and deepfang) instead of one, and you can also buy them from treasure hunter Old Man in the Slateport Market.
BATTLE FRONTIER POINTS- MOVE TUTORS, ITEMS, AND DOLLS (BP) HAVE BEEN REDUCED TO 10BP, TO MAKE IT EASY, JUST LEFT SOME OF THE KANTO DOLLS AT ABOUT 100 BP.
Rivals with full starter evolution.
Kanto Launcher, Hoen Launcher (vs what you choose), Johto Launcher (after full Dex Hoen).
Lucky Egg multiplier is now 2.5 (updated).
BW2 repellent system.
Face RED and LEAF from FireRed and LeafGreen versions.
MAGMA / ACQUA admins and bosses use Hyper Potions / Full Restore instead of Super Potion in the final stages.
MIRAGE ISLAND is open after E4.
All RARE berries are available.
PRISM SCALE ADDED!! [Evolve Feebas] (You can still evolve your Feebas into Milotic like before (okay).
Feebas is now a common Pokemon, use Good ROD or Super Rod.
Team Magma/Aqua has their teams based on TCG cards (Sealeo, Rhyhorn, Camerupt, and others).
All four forms of Deoxys are available (change forms in game).
Screenshots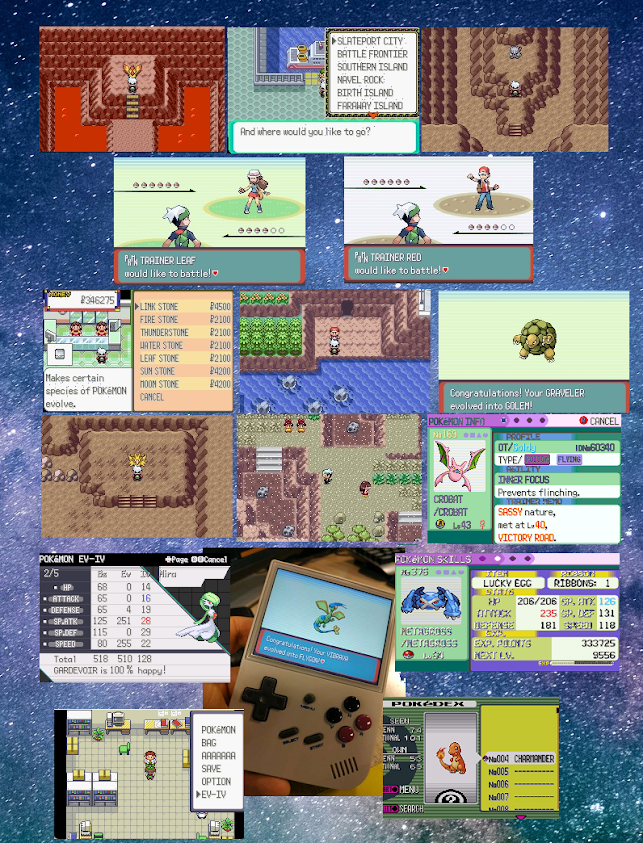 Download
Pokemon Galaxy Emerald is a GBA Hack ROM! It is Completed in English!
Credits
DarthBr