Pokemon Factory Adventure is a GBC Rom Hack based on Pokemon Red. And it is now available to download. It was last updated on November 12, 2020.
Download Pre-Patched Pokemon Factory Adventure GBC Rom
Creator: CameruptQDX
Version: v3.2
Hack of: Red
Updated: November 12, 2020
Also, be sure to check out Pokemon Fuligin.
Plot
The year is 199X. Several months after becoming champion of the Kanto Region, Red is called back by Blue to help on a secret mystery-solving mission! In Red's absence the Kanto region has been overtaken by a strange mist that mutates Pokemon into shocking new forms, and the military has instated a lockdown! Are you a bad enough detective to discover the origin of the mutations and save Kanto?
Features
Gameplay from Roaming Red
Selectable starting town
Scaling levels based on your team
Built-in randomizer options
A fully open-world Kanto to explore in any order
An all-new story about an imperiled Kanto
190 Pokemon to collect, created by kids in the 90s
New locations to explore
New moves
New Gym Leaders and other event battles
The return of the Battle Tent from Pokemon Anniversary Red
Changelog
VERSION 3.2 Update 11/12/20:
Fixes a bug at the Battle Tent that caused incorrect box data
Removed scaling from the prize mons at the game corner to prevent players from locking themselves out of dex completion due to evo stage scaling in the wild
Fixed some stone evolutions learnsets, especially Eevee's evolutions to be less punishing if evolved early
Fixed an AI oversight with new moves
Fixed Route 7 gate bug
Fixed bug in Seafoam Islands causing erroneous surf encounters
Fixed oversight of Hunter, Wendigo, and Psything not being in the wild
Screenshots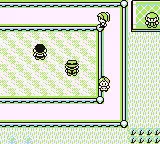 Download
Credits
External Developers:
TShadowKnight & Co. – Creating the original Roaming Red
TPP Devs – Battle Tent from Anniversary Red
Luna – Some bugfix code used from Red++
Addtional Game & Art work:
luckytyphlosion, Rangi, Pfero – ASM & decomp assistance
Quent, TurboSpurdo, TC, PolandDev – additional writing & suggestions
Rool, TC, and a fren 🙂 – additional art
Ahab's Art – Box promo art
Source Images & Content:
jdonald – the original PF archive
Kaiser233 on deviantart – additional 90s fakemon archival source images