Pokemon Outlaw is a GBA Rom Hack by Crizzle based on Pokemon Fire Red in english.  And it is now available to download.
Download Pokemon Outlaw GBA Rom Hack Pre-patched
| | |
| --- | --- |
| Creator | Crizzle |
| Version | September 5, 2016 update |
| Hack of | Pokemon Fire Red |
| Updated | September 5, 2016 |
Introduction
Pokemon Outlaw is not like most of the hacks here. It's not a story about a brand new region where a 10-year-old child explores the world. (Do any of you think 10 is too young to go alone into a world full of dangerous, super-powered creatures?) This isn't the story of an all-powerful grunt from a crime team, either.
Also, be sure to check out Touhoumon HeartGold.
Story
This is the story of a 15 year old orphan who is homeless and lives in the slums. It's about his rise to greatness in the Pokemon world.
The world in this game is one that will be familiar to most of you. It's Kanto, the world of Pokemon Fire Red. There are some significant differences in the maps (new locations/buildings, some locations I hate removed), but it's the Kanto of FireRed. I didn't do this because I'm a worthless lazy sod (although that's true), but because I love FireRed/LeafGreen and I love the GBA Pokemon generation more than any other Pokemon game (although ORAS is pretty awesome).
The biggest difference is the people (NPCs) in Kanto. It's hard to explain, but the people are grosser, funnier, more violent, weirder and way more interesting (in my opinion) than those in Fire Red.
WARNING
This game contains a lot of jokes, some (most?) of which could be taken as very offensive. I'm not a hateful idiot or a sick person (at least I don't think I am). Some (many?) of the characters in this world are. But it's not me, please don't be offended. If you're the type of person who gets easily offended, this game might not be for you. I have made a serious effort to avoid using foul language in this hack. If it were a movie, Outlaw might be PG-13. Quentin Tarantino said it's okay for 12 year olds to watch Kill Bill (great movie) so I think kids can play this hack.
Some will consider Outlaw a comedy, others may consider it a coming of age story, and others may consider it pure crap.
Features
Different starter Pokemon(I won't tell you who, play the game to find out.)
Tons of funny new dialogue(or offensive boring crap)
Slums(poor people/crime areas) in many of Kanto's major cities.
No crappy Mt.Moon or boring Viridian Forest.
Major twist in Pokemon League that's totally awesome. (Won't tell you what. Play the game, loser).
Best parts of FireRed still kept in game but changed to keep it somewhat fresh.
Romantic relationship(sort-of).
You can use running shoes inside buildings? LOL.(I know that's not an impressive feature and that I'm a loser and horrible person).
You're a true outlaw. You don't take sides like a coward. You take on the Government, the Police, Team Rocket, Silph Co and powers beyond the comprehension of human intelligence.
Why you should play this game
It's funneh, dood.
It's completed. No getting invested into the game and then having to wait for the next update in order to complete it. Then finding out the the creator is way too busy with school or work and is dropping the project.
There are no complex crap features that lead to game breaking glitches/crashes and tons of disappointment.
This is a Pokemon game, you (person on PC) have an unhealthy obsession with all things Pokemon. Just play the freaking game, don't think about. just do it.
(Ignore this one if you're a girl) Your mother/sister/girlfriend(whichever is least offensive to you) told me in bed last night that this was the best hack of all-time and she will cut off all ties with you if you don't download it and play it to it completion.
Screenshots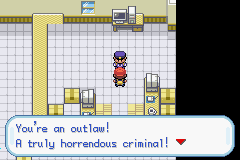 Download
Credits