Pokemon Smeraldo Hardcore Nuzlock is a GBA ROM Hack based on Pokemon Emerald by Charles 1655 in Italian. The download for it is currently accessible, with its most recent update having occurred on March 9, 2023.
Download Pokemon Smeraldo Hardcore Nuzlocke GBA ROM Hack Pre-Patched
Creator: Charles 1655
Version: Complete
Hack of: Pokemon Emerald
Updated: March 9, 2023
Language: Italian
Also, be sure to try out Pokemon Unbound Download (Version Completed)
Description
My interest lies in the challenging aspects of Pokémon games, such as avoiding damage, rather than the Nuzlocke format. However, I recently developed a hack that enhances the difficulty level of the game, which could be used for those interested in attempting a Nuzlocke challenge. The story remains the same as the original Pokémon Emerald game.
In summary, I have always been drawn to the challenges of Pokémon games, particularly those that require avoiding damage. Although I am not a fan of the Nuzlocke challenge, I created a hack that amplifies the game's difficulty, which could be useful for players interested in attempting this challenge. Importantly, the storyline remains unaltered from the original version of Pokémon Emerald.
Features
I increased the game's difficulty by boosting the levels and CPU of opposing teams, ranging from good to great lineups. All opposing trainers have six Pokémon in their team, except for the first battle against the rival. Double battles will occur throughout the game, without exception.
To make the gameplay more balanced, certain Pokémon now have modified stats, such as Togetic, which now has Togekiss' statistics. Additionally, Pokémon with traditionally difficult-to-obtain evolutions, like Eevee, have received simplified evolution requirements. Other Pokémon have different evolution levels from their original game.
New moves can be learned by some Pokémon, and some moves now have different power and accuracy. Wild Pokémon encounters have also been diversified to make the gameplay more engaging. However, players cannot receive EVs, and a new document has been created to keep track of the teams of all coaches and trainers, which will be continuously updated.
Screenshots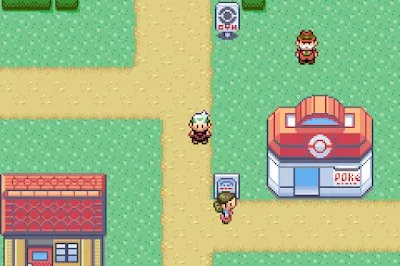 Pokemon Smeraldo Hardcore Nuzlock Download
Guide to play Pokemon Smeraldo Hardcore Nuzlocke
Playing Pokemon Smeraldo Hardcore Nuzlocke GBA ROM can be a fun and enjoyable experience. Here is a step-by-step guide to playing Pokemon GBA ROM:
Choose and download a GBA emulator: There are various GBA emulators available on the internet. Some of the most popular ones include VisualBoy Advance, My Boy!, and John GBA. Choose one that works best for your device and download it.
Download Pokemon Smeraldo Hardcore Nuzlocke GBA ROM: After downloading the emulator, you will need to download the Pokemon GBA ROM of the game you want to play.
Extract the ROM: Once you have downloaded the ROM, extract it to a folder on your computer.
Open the emulator: Double-click on the emulator file to open it.
Load the ROM: In the emulator, click on the "File" menu and select "Open ROM." Browse to the folder where you extracted the ROM and select the ROM file.
Configure the emulator settings: You can configure the emulator settings, including video and audio settings, controls, and save states.
Start playing: Once you have configured the emulator settings, click on the "Play" button to start playing the game.
Save your progress: You can save your progress in the game by using the emulator's save state feature. This will allow you to resume your game at any time from where you left off.
Enjoy the game: Pokemon Pokemon Smeraldo Hardcore Nuzlocke GBA ROM offer hours of fun and entertainment. Enjoy the game and explore the world of Pokemon!
Credits
Charles 1655