Pokemon Unbound is a GBA Rom Hack based on Pokemon Fire Red by Skeli in English. The download for it is presently accessible, with its most recent update having been made on November 8, 2022.
Download Pre-Patched Pokemon Unbound GBA ROM
Creator(s): Skeli
Version: v2.1.2 Completed
Hack of: Pokemon FireRed
Updated: November 8, 2022
Also, be sure to try out pokemon Fusion 3.
Introduction
Hello Pokemerald community, my name is Skeli and this is my only ROM hack. I started ROM hacking seriously in 2016 and since then I've written various ASM routines, created the Dynamic Pokemon Expansion for FireRed and developed the Complete FireRed Upgrade together with ghoulslash.
After a long time I'm proud to announce that Pokemon Unbound is finally ready. There are now two fully functional versions:
The first is the main game, a story-driven game with complex puzzles that will test the limits of your patience and perseverance. Once you've completed the main campaign, there's also a significant amount of post-game content to enjoy over the coming weeks.
The second version, called the Battle Frontier Demo, introduces Unbound's combat engine by granting unlimited access to the Battle Frontier. This version was created in the format of a mobile game, i.e. H. daily rewards, monthly payouts and unlimited playtime. If you like fighting, you'll find plenty to do with over 100 different possible combat combinations. For a fair combat experience, I recommend choosing this version over the main game's Insane difficulty – a difficulty designed for unfair challenges.
With that in mind: Have fun with Pokemon Unbound!
Story
Welcome to Borrius, a region steeped in history. Centuries ago, the Borrian people were engaged in a great war with a foreign land. When all seemed lost, the Borrian king summoned a mighty force to turn the tide. Unfortunately, the war ended in defeat when the king of the foreign land used a devastating weapon. Angered, the Borrian army returned home.
The people, now angry with the Borrian king, attempted a coup d'etat by manipulating the dark power summoned during the war. However, the Borrian king managed to seal their power and the coup was foiled.
Many years later, an organization known simply as the "Shadows" appears intent on unleashing the dark force once more. Are they aiming to destroy the Borrius region, or is something else at play? It's up to you to stand in their way! Also Try Pokemon Infinite Fusion.
Features
A Powerful Engine: Pushing the Complete FireRed Upgrade to its maximum potential, Pokemon Unbound contains a custom battle engine on par with Gen 8, as well as many quality of life features that improve the gameplay experience just waiting to be found. Enjoy catching all of your favourite Pokemon, from Gen 1 up to Gen 7, while using all of your favourite moves and abilities from each of these generations!
QOL Galore: Pokemon Unbound is also chock full of quality-of-life features to enjoy, such as Unlimited Bag Space, Auto-Run, the DexNav, Daily Raids and much more!
A New HM System: Have access to all of your favourite HMs without the hassle of carrying HM slaves! As long as your Pokemon can learn an HM, they will be able to use it in the overworld, and once you purchase the brand new key item – the ADM in the post-game, enjoy battling with all six Pokemon from your favourite team regardless of the HMs they can learn!
Updated Graphics: Sporting Gen 4 graphics in the overworld and Gen 5-esqe interfaces, in addition to a dynamic day and night system, Pokemon Unbound has a brand new, yet familiar feel! You're not in Kanto anymore!
Difficulty Modes: Choose from up to four different difficulty modes! Ranging from Easy to Insane, you can either sit back and relax or get your teeth kicked in by a completely brand new AI system!
A Unique Mission System: Pokemon Unbound contains over 80 unique Missions to complete! Mission progress can be tracked using the new Mission Log, in addition to extra details, such as which items have been found in collectathons!
Character Customization: Choose from up to 300 different combinations of skin tones, hair colours, and outfit colours! Unleash your fashion sense!
Daily Events: There are plenty of events all over Borrius, many of which can be experienced daily, and some can only be found at certain points in the day! Play throughout the day to experience them all!
Exciting Mini-Games: Play exciting mini-games such as Cloud Burst, Safari Sniper, and Underground Mining!
Challenging Puzzles: Put your brain to the test, and find ways to solve many of the unique and complex puzzles littered throughout Borrius!
A Rich Post-Game: Spend hours after the main campaign battling in Pokemon Unbound's battle facilities, completing Missions, mining in the KBT Expressway, catching Legendary Pokemon, and so much more!
A Custom OST: Enjoy over 180 original songs composed for Pokemon Unbound, each as brilliant as the last! And if you're left wanting them for yourself, you can download them all here!
Screenshots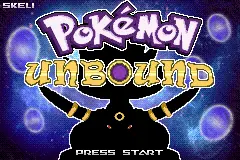 Download Links
Mirror
Documentation
Special thanks
Golche for the sprite work, the feedback, the music, the bug testing and the all round good work.
Theharth for many things like testing, trainer texts, menial jobs and just being a good friend.
Lixdel for helping with a lot of things including motion animations, data insertion and thorough bug testing.
Nex for awesome sprites, awesome tiles and awesome title screen background.
Criminon for lots of great sprites, UI designs and hours of work on the costume system.
Kwenio for several great character redesigns, including the main characters.
Pascal van den Bos, who took on the role of sound director and ensured that Unbound's OST was phenomenal from start to finish.
Rowyn Berlan, Jose Villanueva, Humanly and Blanders for much of the amazing OST.
CyanSMP64 for helping to save ROM space and for making the OST even better quality.
Maria Panaiotti for the great redesign of the logo.
U.Flame for the underwater tile set, as well as various tile and map improvements.
dr Fuji and Hillsy13 for great tileset and mapping work.
SevenK for his great job in finding bugs, great help in fixing bugs and for almost all custom shine palettes.
HnzMtthw for his great work in bug testing and designing concept art.
Patrickz for testing bugs on the border and AI suggestions.
Deneb and Elgathar for testing and helping create challenging teams.
Doctordoak for several balance suggestions and the rework of almost all Battle Frontier arcs.
Gail for helping test the CFRU in its early stages and for the many bug tests afterwards.
Swirl Muffin for inventing some great late game puzzles.
Noodlewhiz for handling bug reports and his research on correct mining implementation.
Achromatic for the CSS template that serves as the basis for this thread.
PRET for their amazing work with the decomps, a big reason Unbound is where it is today.
Credits