Pokemon Infinity is a Fan Game Made Using RPG Maker XP and Pokémon Essentials in English. And it is now available to download. It was last updated on July 7, 2023.
Download Pokemon Infinity RPGmaker Fan Game
| | |
| --- | --- |
| Language | English |
| Creator | Atomic Reactor |
| Version | Completed |
| System | RPG Maker XP |
| Update | July 7, 2023 |
Plot
Welcome to the Egho region (Ee – go) You wake up in the middle of a forest and you no longer know who you are.
With the help of a local professor and his assistant, you embark on an adventure on a mysterious island in hopes of regaining your memory. in Pokemon Infinity Funny times and difficult challenges are waiting for you!
Also, be sure to try out Pokemon Legacy!
Features
1st through 6th Gen Pokémon and mechanics
100+ Fakemon, including regional forms, new evolutions, and original designs
Online Battling and Trading
Dynamic weather system that changes with the day and time
Unreal Time System which means the world runs on its own time
Extensive Post-Game content to keep you busy
Level cap has been raised to 150
Trade Evolution Pokémon are available via other methods
Over 650+ battle animations
Randomizer mode (must activate at rivals PC before leaving first town)
Speed Up using Ctrl
Quick Save using F8
Screenshots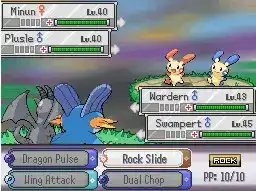 Download
Credits
Pokemon Infinity : Atomic Reactor