Pokemon Gym Manager is a fan-made game that puts you in charge of your very own Pokémon Gym.  And it's now available for download. It was last updated in Tuesday, October 20, 2023.
Download Pokemon Gym Manager A Roguelike Pokemon Experience
Creator: ForTheShip
made in: RPG Maker
Version: Beta v2
Updated: October 20, 2023
Also, be sure to try out Pokemon GS Chronicles!
Story
A humble small town seeks help managing its brand-new Pokemon Gym. After accepting the offer, you are tasked with hiring a Gym Leader and managing a roster of Gym Trainers each day. The ultimate goal of the gym is to fashion itself as a reputable gym and attain accreditation.
Each day, competitors will line up to challenge the Gym and its trainers. Upgrades to the gym are made after every successful day, and prize money can be used to improve the teams of the Gym Trainers through multiple methods: buying items and TMs, or adopting Pokemon to add to your trainers' teams.
Everything about the progression of your gym is completely randomized, from the Pokemon type of your gym to the trainers that you face each day. In my own experience testing the game there is a significant amount of skill that goes into making the best decisions with available choices, and being adequately prepared for each day's challenge.
In Pokemon Gym Manager Your gym trainers are AI-controlled in battle. All trainers start with a skill level of 1 that can be improved with random "Skill Ups" from the daily upgrade selection. Improved trainers will start hunting type mismatches, while beginner trainers will make many more mistakes.
If all of your Gym Trainers are defeated in a day, the game is over. It wouldn't be a true roguelike without permadeath! The game will continue infinitely, but the "final boss" is on day 100.
Features
Multiple save files.
Elite Battle system from Luka SJ
Speed up script, press Q to toggle game speeds (1x, 2x, 3x, 4x).
You CAN turn off AI-controlled allies and issue commands for their Pokemon, but I don't recommend it. The difficulty is balanced around the auto battle mechanic.
Screenshots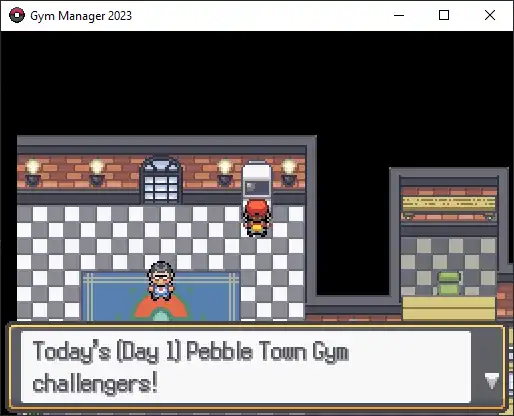 Download
Credits
"Pokemon Essentials", by:
Flameguru
Poccil (Peter O.)
Maruno
With contributions from:
AvatarMonkeyKirby
Luka S.J.
Boushy
MiDas Mike
Brother1440
Near Fantastica
FL.
PinkMan
Genzai Kawakami
Popper
help-14
Rataime
IceGod64
SoundSpawn
Jacob O. Wobbrock
the__end
KitsuneKouta
Venom12
Lisa Anthony
Wachunga
and everyone else who helped out
Ekat
Mashirosakura
http404error
Luka S.J.
Manurocker95