Pokemmo Download free fan-made MMORPG Online that lets players explore the world of Pokemon with others. It features battling, trading, and collecting Pokemon in various regions, as well as social features like chat and clans.
Description
Pokemmo is a massively multiplayer online role-playing game (MMORPG) that allows players to experience the world of Pokemon in a multiplayer setting. It combines elements from various Pokemon games, including the ability to battle, trade, and collect Pokemon, explore various regions, and interact with other players.
In Pokemmo, players can create their own avatars and choose a starting region from the Kanto, Johto, Hoenn, and Sinnoh regions. They can then explore the region, catch Pokemon, and battle with other trainers. The game also features various social features, such as chat, trading, and joining clans, which allows players to team up with others and engage in cooperative gameplay.
Also, be sure to check out Pokemon Wilds!
Pokemmo Developer(s)
Pokemmo was developed by a group of fans and independent developers. The development team is known as the Pokemmo Team and is composed of volunteers from various countries around the world. The team has been working on the game since 2012, continually adding new features, fixing bugs, and improving the overall game experience for players. They are not affiliated with Nintendo or The Pokemon Company, and the game is not an officially licensed Pokemon product.
Features
Pokemmo combines features from various Pokemon games. Here are some of the key features of the game:
Multiplayer: Players can interact with others in the game, battle, trade, and team up to explore the world of Pokemon together.
Regions: The game features regions from the Kanto, Johto, Hoenn, and Sinnoh regions, each with its own unique Pokemon and gyms to battle.
Pokemon: Players can catch, train, and collect various Pokemon, with over 800 species available in the game.
Battle System: The game features a turn-based battle system similar to the core Pokemon games, with various moves and abilities for each Pokemon.
Social Features: Players can chat with others, join clans, and participate in events and tournaments to interact and compete with others.
Customization: Players can customize their avatar's appearance, and purchase various clothing items and accessories to personalize their in-game character.
Player Economy: The game features a player-driven economy, with players able to buy and sell items, Pokemon, and services to others.
Quests: The game features various quests and missions, giving players objectives to complete and rewarding them with items and experience points.
DOWNLOAD AND CONNECTION GUIDE
Screenshots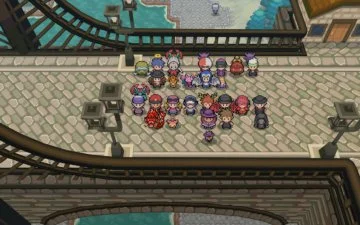 Frequently Asked Questions About Pokemmo
What is Pokemmo MMORPG?
Pokemmo MMORPG is a massively multiplayer online role-playing game that allows players to explore the world of Pokemon with other players in a virtual environment. It combines the gameplay of the classic Pokemon games with online features that allow players to battle, trade, and chat with each other.
Is Pokemmo MMORPG free to play?
Yes, Pokemmo MMORPG is free to play. However, players can purchase in-game items and currency using real money to enhance their gameplay experience.
What are the system requirements for playing Pokemmo MMORPG?
The minimum system requirements for playing Pokemmo MMORPG are:
Operating System: Windows XP, Vista, 7, 8 or 10; macOS 10.8 or higher; Ubuntu 12.04 or higher
Processor: 2.0 GHz or higher
RAM: 2 GB or higher
Graphics Card: DirectX 9.0c compatible, with 256 MB VRAM or higher
How do I start playing Pokemmo MMORPG?
To start playing Pokemmo MMORPG, you need to download the game client from the official website and create an account. After creating an account, you can log in and start playing. The game also provides a tutorial to help you get started.
What features does Pokemmo MMORPG offer?
Pokemmo MMORPG offers a range of features, including:
The ability to catch and train Pokemon
Battles with other players and NPCs
Trading Pokemon with other players
Chatting with other players
Joining clans and competing in clan wars
Participating in in-game events
Customizing your character's appearance with clothing and accessories.