Pokemon Eternal Order is a fan game developed using Rpg Maker Xp and Pokémon Essentials v20.1. And it is now available to download. It was last updated on June 23, 2023.
Download Pokemon Eternal Order (UPDATED TO V20.1 OF POKEMON ESSENTIALS)
| | |
| --- | --- |
| Creator | Seenit45 |
| Version | Completed |
| developed using | Rpg Maker Xp |
| Updated | June 23, 2023 |
Also, be sure to check out Pokémon Let's Go Lugia!
Story
You are a 15-year-old from the city of Nores in the region of Celia. You're currently staying at your best friend's house, but now that you've gotten your first Pokemon, you'll embark on your very own journey to become a Pokemon champion. There are two evil organizations in this region, one of which you know better than you care to admit.
Features
You can choose from a large variety of wild Pokemon to catch from Gen 1 to Gen 8.
A Wonder Trade system has been placed in every Pokemon Center.
New bosses have been made, called "Expert Breeders", who specialize in one certain Egg Group of Pokemon.
Help out the public and complete Ranger Quests.
New items have been introduced that change the nature of your Pokemon.
The "Frozen" status has been changed to the "Frostbitten" status, which is the special version of the "Burned" status
A lot of RNG-based effects have either been changed or removed completely.
Rematch gym trainers any time you want before facing the leader of a certain gym.
A new item has been introduced which makes breeding Pokemon much, much faster.
Recolored shiny forms.
Many Pokemon have been buffed through new stats, new abilities or new fanmade evolutions.
You can use the G key to speed up the game.
And much more!
Difficulty
I'd say the difficulty is above average. You can't use items like Potions and Revives during battles (neither can the NPCs), the battle mode is locked to set in important battles like the ones with gym leaders or rivals, and boss battles from mid to late game have EV-trained Pokemon. Regardless, if you're an experienced Pokemon player, the game should honestly not be that hard. It's definitely no Radical Red, that's for sure.
Screenshots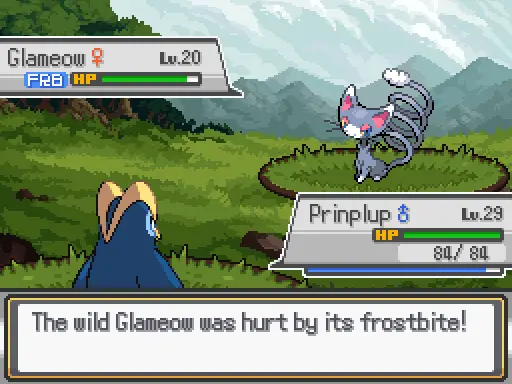 Download & other links
 Additional Information : Includes extra info regarding the changes made to the Pokemon and their learnsets, wild Pokemon locations, TM locations, credits etc.
Credits
Gen 6 & 7 Sprites – Mej71
Gen 6 PBS Files – Deo
Sand Footprints Script – KleinStudio
Advanced Capsule – zerokid
Sunflora's evolution design – Haychel
Spinda's evolution design – pokeluka
Surge Abilites – Rot8er_ConeX
Psychic Terrain – rigbycwts
Fairy Tale Girl sprite – Kyle-Dove
HM Items – Marin
Defining Pokemon EV's – DoesntKnowHowToPlay
Additional help for scripting – Maruno, WolfPP, Vendily, mybusiness, bagtu (all from PokeCommunity) and Thundaga (from Youtube)
"Pokémon Essentials" was created by:
Flameguru
Poccil (Peter O.)
Maruno
With contributions from:
AvatarMonkeyKirby
Luka S.J.
Boushy
MiDas Mike
Brother1440
Near Fantastica
FL.
PinkMan
Genzai Kawakami
Popper
help-14
Rataime
IceGod64
SoundSpawn
Jacob O. Wobbrock
the__end
KitsuneKouta
Venom12
Lisa Anthony
Wachunga
and everyone else who helped out
Huge thanks go to everyone listed above who gave me a hand when I needed help.