Pokemon Crimson & Cobalt is a Fan Game Made Using RPG Maker XP and Pokémon Essentials v18.1 in English. And it is now available to download. It was last updated on September 15, 2023.
Download Pokemon Crimson & Cobalt Fan Game
| | |
| --- | --- |
| Language | English |
| Creator | Armin |
| Version | v1.1 |
| System | RPG Maker XP |
| Update | September 15, 2023 |
Plot
Journey through the region of Ibara, on your quest to become the strongest Trainer – Pokémon League Champion!
Along the way, meet new friends, battle new foes, raise the ultimate Pokémon team and… take down a secret cult?!
Crimson Society, the group that ravaged the region five years ago, seeks to make a comeback!
What could they want this time, and what does this bode? One thing's for sure…
It's time you get your revenge…
Also, be sure to try out Pokemon Containment.
Starring
Protagonist (You): A beginning Trainer, sullen but not silent. He has a fierce determination to achieve his goals!
Kane: Rival of the protagonist, an aloof and reserved older boy who is almost always one step ahead.
Valerie: The Champion of Ibara, her spirited and bubbly disposition never fails to light up any room she's in.
Gen: A member of the Elite Four, he is amiable and mild-tempered, often acting as a voice of reason.

Featuring
New adventures: New stories, new characters, new battles, and a new region to visit!
Familiar faces: All Pokémon (bar Starters, UBs and Legendaries) from Gen1-7 are obtainable!
Challenging battles: Mid-battle shenanigans for Gym Leaders and important boss fights!
HM Modules: They allow Pokémon to use field moves without taking up a moveslot!
Fast Forward: Press the "Alt" key to zoom through the region at up to 3x the speed!
Unreal Time: One hour in real life = one day-night cycle in game! This affects wild encounters!
Crafting Recipes: Create special Poké Balls and stat-boosting Aprishakes from Apricorns!
Secret Hollows: Optional dungeons with quests, rare items, and exclusive Pokémon!
Triple Triad: The hottest card game sensation! Challenge duelists and win their cards!
CONTENT WARNING
A dialogue-heavy game with lots of reading and multiple long cutscenes.
Some content may not be suitable for all audiences, including and not limited to:
profanities, black comedy, flashing lights, graphic depictions, dubious morals, and possibly heavy themes.
Player discretion is advised.
Screenshots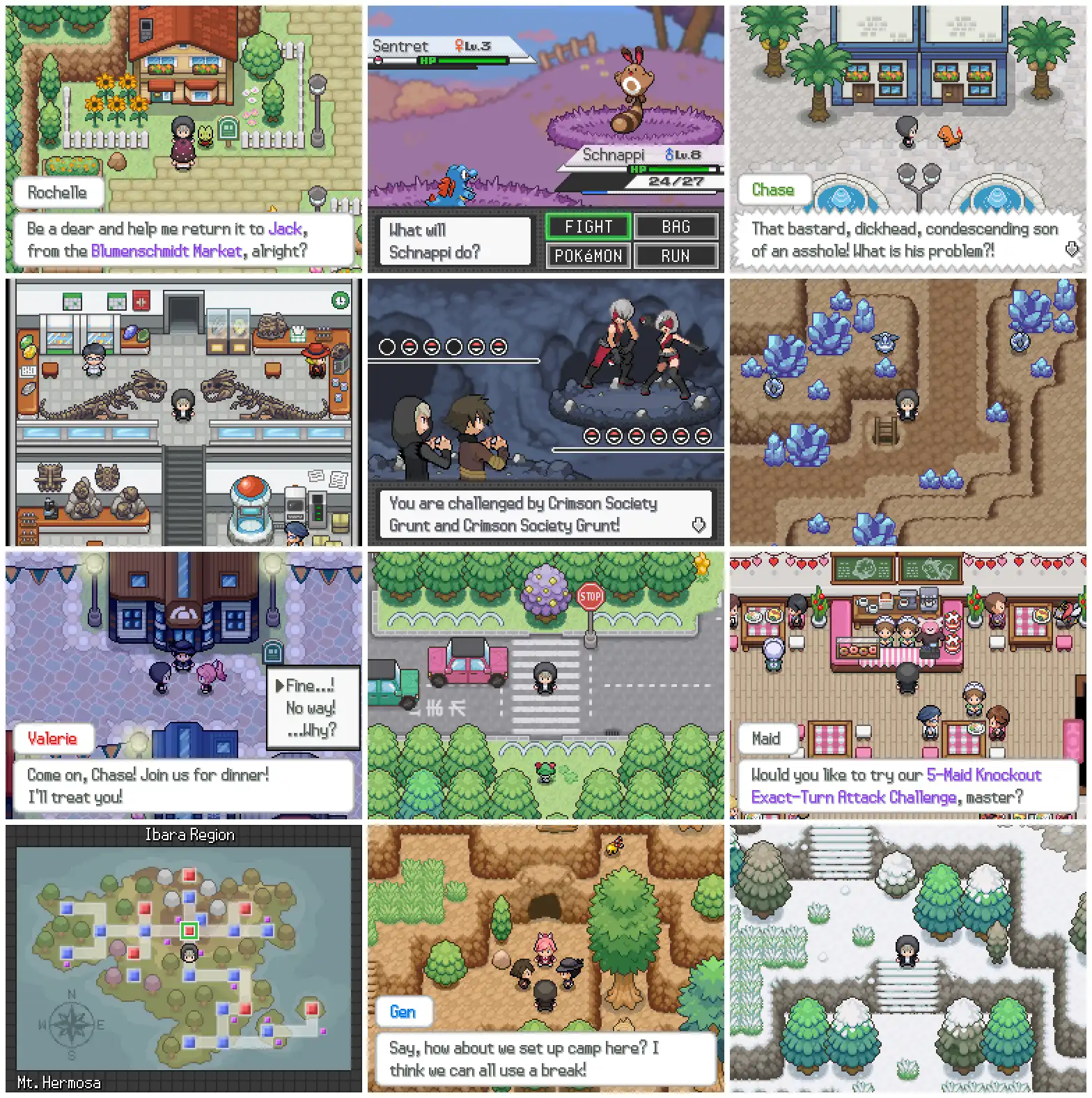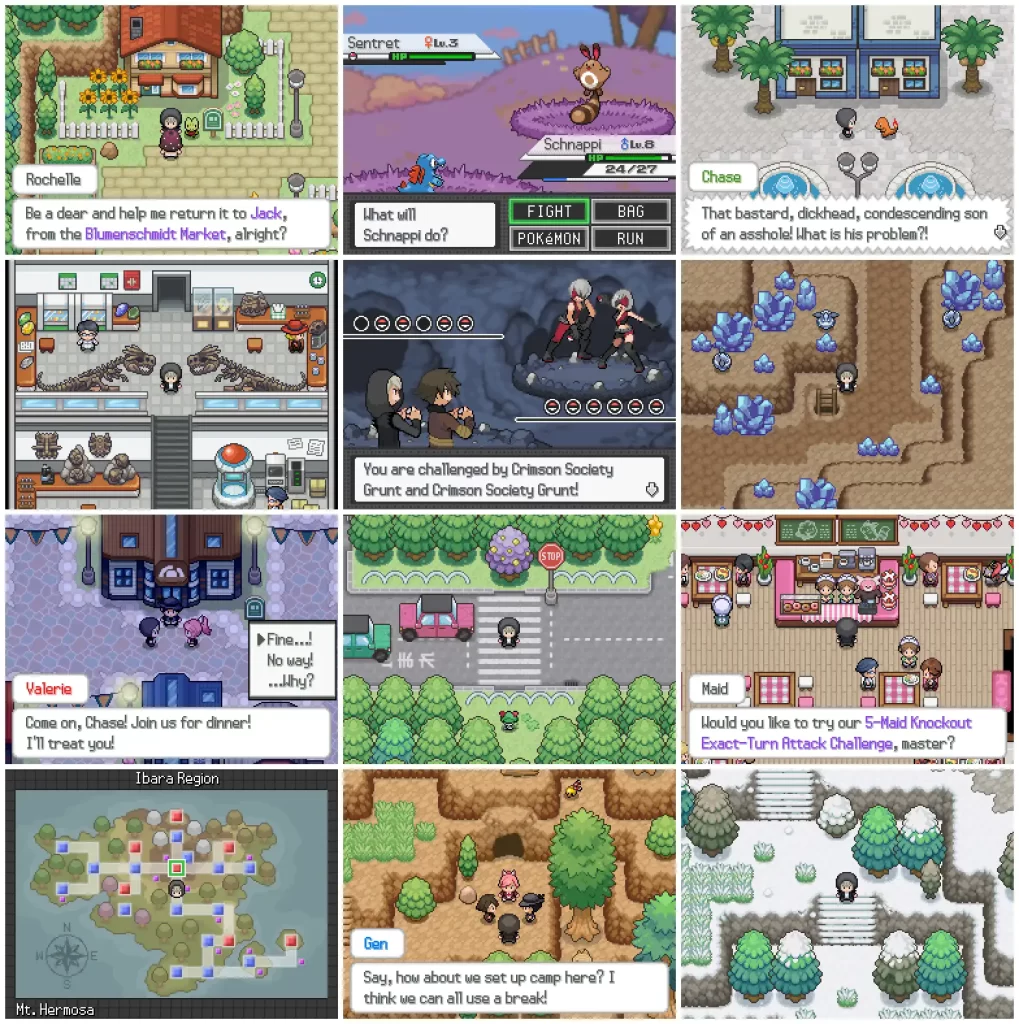 Download
Act I: "A Thousand Crimson Blooms" Now Available!
~Around 15+ hours of content!
~4 (out of 8) Gyms and 3 (out of 7) Secret Hollows!
~Act II currently in development!
Game may crash unexpectedly. Save regularly to avoid losing data!
Credits
—– Pokémon —–
The Pokémon Company
Nintendo
Affiliated with Game Freak
—– Pokémon Essentials v18.1 —–
Flameguru
Poccil (Peter O.)
Maruno
With contributions from:
AvatarMonkeyKirby | Marin | Boushy | MiDas Mike
Brother1440 | Near Fantastica | FL | PinkMan
Genzai Kawakami | Popper | Rataime | help-14
IceGod64 | SoundSpawn | Jacob O. Wobbrock | the__end
KitsuneKouta | Venom12 | Lisa Anthony | Wachunga | Luka S.J.
and everyone else who helped out
—– RPG Maker XP —–
Enterbrain
—– Title Screen —–
Gundam Wing: Endless Duel
Font: Dark Seed by Chequered Ink
Pokémon Pinball: Ruby & Sapphire
Game icon: Roselia (BanG Dream!)
—– Animations, Cries and SFX —–
hadecynn | James Yevon | KazoWAR | Lemon
Phasma | Random Talking Bush
—– Tilesets and Graphics —–
19dante91 | Akizakura16 | Alucus | Amras Anárion
AsdSimonE | Aten974 | aveontrainer | Barubary
BoOmxBiG | carchagui | ChaoticCherryCake | Chris M "Ranger"
CNickC | CrimsonTakai | Cuddlesthefatcat | DaNerdyDude
Dazz | Death Strike | ditto209 | DonLawride
Ekat | EpicDay | Erma96 | EVoLiNa
Flurmimon | Gaia Project | Gamezop10 | Gigatom
Heartlessdragoon | Hek-el-grande | Hydrargirium | iametrine
idilio | ItsHydro | Jack | Jackster
JesusCarrasco | J-Treecko252 | kaitoooo | KingTapir
KioRaka | Kizemaru-Kurunosuke | Kyle-Dove | LimeZu
marcosik1992 | Magiscarf | MewTheMega | Midnitez-REMIX
Minorthreat0987 | Neslug | Newtiteuf | NikNak93
norma_2d | Pablus94 | Pano26 | PixelMister
PeekyChew | Phyromatical | Poison-Master | Pokemon-Diamond
princess-phoenix | ProudToBeTasteless | PureAzuure | PurpleAladdin
Rayd12smitty | Reck | Sagaxxy | SailorVicious
Scarex | Seiyouh | Shutwig | Slaqueen
SL249 | Spaceemotion | Speedialga | SteinNaples
Sylver1984 | TeaAddiction | ThatsSoWitty | TheDeadHeroAlistair
The Libertine | The-Red-eX | Thurpok | TyranitarDark
UltimoSpriter | Vazquinho25 | Vicente Nitti | Vurtax
Wergan | WesleyFG | XDinky | Xenphoro
Xxdevil | Zein | Zeo254 | zetavares852
Cooking Mama: Let's Cook!
Meteos
Mother 3
Pokémon Battle Trozei
Pokémon Café ReMix
Pokémon Sword & Shield
Atomic Reactor and the Pokémon Infinity team (tiles, battle bases and panoramas)
Amethyst and the Pokémon Reborn team
Janichroma and the Pokémon Rejuvenation team
—– Battlers and Sprites —–
2and2makes5 | Appletun's Apples | Atomic Reactor | Chocosrawlooid
cSc-A7X | DarkusShadow | DiegoWT | Fernandojl |
Gallanty | Getsuei-H | Gizamimi-Pichu | help-14
kdiamo11 | Kid1513 | KingTapir | Kyle-Dove
Kyt666 | LarryTurbo | LilMicolash | LunarDusk
Maicerochico | Milomilotic11 | MissingLukey | Neo-Spriteman
piphybuilder88 | Pokegirl4ever | Poltergeist | princess-phoenix
PurpleZaffre | SageDeoxys | Silver-Skies | spritesstealer
Syledude | tammyclaydon | TintjeMadelintje101 | Tustin2121 |
TyranitarDark | VanillaSunshine | WolfPP | Zyon17
Relic Castle Staff
Smogon X/Y Sprite Project
Smogon Sun/Moon Sprite Project
—– Resource Packs —–
Pokémon and the Last Wish Part II by:
ENLS | Voltseon | PurpleZaffre
Pokémon Battle Spotlight by:
HollowGap | RandoDev | TabletPillow
Pokémon Bushido by:
LuxDiablo | Thundaga | HauntedArtStudio | Tristantine The Great
Pokémon Nightshade by:
Ekat
Pokémon Parallax by:
LuxDiablo | AnonAlpaca | Maks | ToxicStall
Pokémon Shikari by:
MewTheMega | BrysoonYe | idilio | Riddle
Pokémon Syvin by:
Ekat | MewTheMega | Michael | Monika
Pokémon Tempo Rising by:
Akizakura16 | Dusky | Deo
The Last Nurse Joy by:
AnonAlpaca | TechSkylander | Monika | nomi
—– Music —–
MapleStory Music by:
Studio EIM | ASTERIA | M2U | Creed Sound
S.I.D-Sound | SQUARE MUSIQ | ESTIMATE | Initium SoundLab
CODASOUND (LedZeper, Lee Jun-Hee)
Moonsoo Park (LoudBell Studio)
JoJo's Bizarre Adventure All-Star Battle R OST by:
Anny-K | Ryosuke Terao | Erica Kiyosaki | Masaki Kuniwake
Masaki Hara | Chikayo Fukuda
Pokémon Diamond & Pearl, Pokémon HeartGold & SoulSilver
Super Music Collection by:
The Pokémon Company
Pikachu Records (Media Factory)
手心的蔷薇 (Beautiful) by:
JJ Lin feat. G.E.M.
Piano cover by Nice piano sheets
—– Scripts —–
"Always on bush" by:
KleinStudio
"Animated Title Screen" by:
Rayd12smitty
"Berry Trees" by:
Maurili
"Better Fast-forward Mode", "DP Pause Menu",
"Easy Questing System", "Enhanced Staircases",
"Marin's Footprints", "Marin's Map Exporter",
"Marin's Scripting Utilities" by:
Marin
"Big Push Events", "Pokemon Exploration",
"Torterra Tree Minigame" by:
Vendily
"B2W2 Bag" by:
LackDejurane | Erassus | StCooler | BadSamaritan
Maruno | Marin | Luka S.J.
"BW Save Screen"
HDrawer | shiney570
"BW 'Shout' Message Effect", "Step On Spot",
"Water Puddle Animations" by:
Boonzeet
"BW Storage System", "Pokédex BW Style",
"Gen V Summary Pack" by:
DeepBlue PacificWaves | NettoHikari | Xtreme1992 | Barubary
redblueyellow | Shashu-Greninja | Mr. Gela | Tommaniacal
Lucidious89 | Weibrot | Kobi2604 | Ploaj
"Check for Pokémon of a certain Type" by:
Defa
"Checking for shiny Pokemon" by:
Rot8er_ConeX
"Custom Gen 4 Day & Night Tones" by:
VanillaSunshine
"Diploma", "HMs as Items",
"Punch Bag Game", "Roulette mini-game",
"Triple Triad Booster Pack", "Unreal Time",
"Watch in the Pokégear Menu" by:
FL
"HGSS Trainer Card", "Message Portraits",
"Pokémon holding Mail", "Passwords" by:
Mr. Gela
"Hidden Ability by percentage" by:
Mashirosakura | Scyl | NettoHikari | Marin
"Item Crafter Scene"
kcgcrazy
"Lagless Path Finder" by:
Blizzard | khkramer
"Luka's Scripting Utilities"
Luka S.J.
"Mid Battle Dialogue/ Scripted Battles" by:
Golisopod User | Luka S.J.
"Name Windows" by:
mej71 | Vendily | Mr. Gela
"Overworld Shadows" by:
WolfPP | Marin
"Party Switcher" by:
Michael | TechSkylander1518 | Marcello | ZeroKid
"RGSS FmodEx extension" by:
Enterbrain | Nuri Yuri | GiraPrimal | Firelight Technologies
"Simple Encounter List Window" by:
raZ | Nuri Yuri | Vendily | Savordez | Marin
"Textbook Script" by:
TechSkylander1518
Zerokid and the Pokémon Zero team
—– Additional Thanks —–
Audacity
Bulbapedia
Clip Studio Paint
donjon
KHInsider
Resource Hacker
Slip's Music Database
Smogon
The Spriter's Resource