Pokémon Let's Go Lugia is a complete rom hack for GBA based on Pokemon Fire Red in Portuguese, English & Spanish. which it has the Johto Region with a New Map, Animated NDS Graphics, New Story, Greater Difficulty, Johto Initials , PokéDex same as in the Anime and New Moves up to Eighth Generation.
Download Pokemon Let's Go Lugia GBA ROM Hack Pre-Patched
Type: GBA
Hack based on: Pokémon Fire Red
Version: v6.3
Language: Portuguese/Spanish/ English
Creator: Ricardo Stone Team (English Translation by Sacred Almighty)
Story
The story is based on Pokémon Soul Silver for NDS but much more different and varied since the map is totally different even though it has all the towns and cities the same as in Johto. Here you can choose between Ash and May to start the adventure, you also have Pikachu and a Johto initial that can be Chikorita, Cyndaquil or Totodile. Also, you can check that linearly it is the same route and map as in Kanto but with different events.
In Pokémon Let's Go Lugia you can catch more than 200 First and Second Generation Pokémon, collect Pokémon Eggs from the tall grass, get TM and MO very easily and find hidden items along the paths. Here your enemies are the usual ones, such as the famous team of villains called Team Rocket who are going to want to seize the power of Johto but together with your team you must defeat them. Lugia is the main legendary of the game, so there will be several very important events until you can capture him in the Whirlpool Islands.
Also, be sure to check out Pokémon SORS!
Features
New Johto Region with new Map.
New story with many new things to discover.
New NDS-like animated graphics.
New movements up to Eighth Generation.
PokéDex the same as in the anime and gives information to know how to evolve Pokémon.
Johto's Pokémon can be seen in tall grass to talk to and capture.
Kanto's Pokémon appear hidden in the tall grass.
Pokémon from 1 first to 2 second generation.
Distribute experience the same as in Pokémon XY.
TM and MO can be used infinitely.
Repelling system the same as in Pokémon Black & White 2.
Division of physical and special attacks.
Visible Pokémon eggs on top of tall grass (they are random).
New High Command and Champion of the Pokémon League.
Hidden objects can be found in the houses and routes.
In the Pokémon Centers you can check the IVs and EVs of your Pokémon.
Screenshots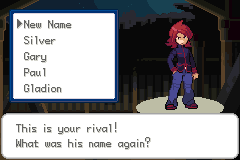 Download
Mirror
Guide To Play a GBA ROM on Windows, Mac, or Android
To play a GBA ROM on Windows, Mac, or Android, you will need to follow these general steps:
Download a GBA emulator: You can find several GBA emulators online, such as VisualBoyAdvance, mGBA, or My Boy! Free – GBA Emulator.
Download a Pokémon Let's Go Lugia GBA ROM: You can find GBA ROMs on various websites Like Pokemerald.com.
Open the emulator: Once you have downloaded the emulator, open it on your device.
Load the ROM: In the emulator, locate the option to load a ROM, and select the GBA ROM file that you downloaded.
Start playing: Once the ROM is loaded, you can start playing the game.
Note that downloading and using ROMs may not be legal in your country or region, so make sure to research and follow the laws and regulations that apply to you.
Credits
Ricardo Stone Team, Sacred Almighty (English Translation)