Pokemon Sienna is a GBA Rom Hack by Manipulation Based On Pokemon Fire Red in English. And it is now available to download. It was last updated on June 30, 2021.
Download Pokemon Sienna GBA Rom hack Complete
| | |
| --- | --- |
| Hack Name: | Pokemon Sienna |
| Language: | English |
| Author: | Manipulation  |
| Version: | Completed |
| System: | GBA |
| Updated on: | 2021 |
Story
The day has finally come, the day for your era to begin. After months of waiting, you hear of an opening at the Indigo Plateau trainer school in Kanto. After sending off your letter, your CV is rejected. Mostly because of your lack of experience; but, your alternative is to go out on your own journey. Challenging the gyms, and finally the plateau, in Kanto, should be no problem. But, the region is being disturbed by the up-rising of a mysterious team. This 'team' have been going around the region and causing havoc, stealing Pokémon and mugging shops. Will you merge in with the group, let them be, or will you stop them on your journey? It's all up to you!
Also, be sure to try out Pokemon Radical Red v4.0.
Features
New Region – The beautiful and rugged region of Voultan will be home to many different kinds of Pokémon
Decision Based Storyline – Your decisions in-game will affect the direction of the story
New Tiles – Realistic and beautiful new buildings in each city
Focus Punch Trees – A larger tree can be hit with the move Focus Punch and rare Pokémon will fall out
New Pokémon – The region of Voultan is home to many exclusive species of Pokémon
Moves from 4th Generation onwards – Sienna has moves from the 4th generation onwards on top of every single 3rd generation move
Travel Between Different Regions – Visit old and foreign lands, meet new and familiar people
New Music – Sienna features excellence new music for some of its routes and cities
Screenshots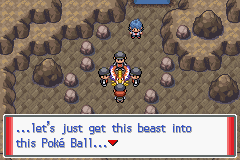 Download
Team
Manipulation – Everything
Ex-Team Members
giradialkia – Music Creation
DrFuji – Mapping
Chibi Robo – Spriting
Luck – Mapping
sasquatchd00d – Mapping
Spherical Ice – Spriting/Ideas
Vrai – Ideas
Credits
Fangking Omega and Mateo – New Tiles
Flandre Scarlet – Music Insertion
giradialkia – Music
DrFuji – Mapping
Chibi Robo – Spriting
Spherical Ice – Sprites
HackMew – ASM and General Help
thethethethe – ASM
jambo51 – ASM
Darthatron – ASM and General Help
cuddlesthefatcat – New Tiles
Truality – Sprites
mindfreak – Graphical Help
Riceeman – Sprites
Avatar – Sprites
Youji – Pokémon Sienna Thread Logo