Pokemon Ultra Shiny Gold Sigma, a revolutionary take on the classic Gold, Silver, and Crystal games, is now available! Experience all regions from Johto to Alola, and catch over 800 Pokémon from all generations. With new features, bug fixes, and balance changes, this is the definitive way to play the Johto saga.
Download your pre-patched Pokemon Ultra Shiny Gold Sigma GBA ROM
Features
More than 807 Pokemon from Gen 1 to 8, with Alolan forms & Galar Forms
Improved graphics
Mega Evolution in battle
Trade evolutions removed
New items like Shiny Charm, Joy Checker, Skill Capsule
Miracle Exchange, a simulated wonder-trade system
The Battle Frontier facilities are scattered throughout the game
EVs and IVs on-screen
All Gym Leaders offer rematches in Johto, Kanto, Orange Islands and Hoenn
DNS system- Dawn, Day, Afternoon, Dusk, Night
Remastered soundtrack
Changelog
v1.4
Mahogany's Path, stability, bug fixes, and performance updates.
Brand new music for most regions and places, adding unique and different ones for each zone, like Ilex Forest, Slowpoke Well, each City, wild battles, and a complete Hoenn soundtrack adapted for SGS. I hope you guys take the time to listen and enjoy.
A new special, "-Eevee" (Eternal Eevee), was discovered and available to find at National Park (rare). This special one will allow you to evolve into the new Eeevelutions discovered. We present to you the following remaining eevelutions per type: Brawleon, Toxineon, Sandeon, Windeon, Vespeon, Bouldeon, Whispeon, Metaleon, Draceon, Eeveeon! ➔Improve routes in Hoenn including 118,119,120,121,122,123,124, Fortree and Lilycove City.
Portkey WormHoles started to appear in the Hoenn Region, but nobody knows how to activate them yet.
Hoenn is up to Lilycove City (ORAS Style). Will you be able to find a PortKey Wormhole?
Also, be sure to try out Pokemon Flora Sky.
Screenshots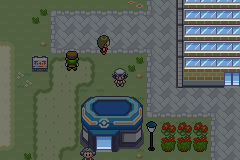 Download
How to play Pokemon Ultra Shiny Gold Sigma GBA ROM
Pokemon Ultra Shiny Gold Sigma is one of the premier ROM hacks out there and should be an essential experience for fans of the series. Here's how you can start playing:
Download a Game Boy Advance emulators. There are many different emulators available, both for PC and mobile devices.
Download the Pokémon Ultra Shiny Gold Sigma ROM file. Via the link below.
Extract the ROM file from the ZIP archive.
Open the emulator and load the ROM file.
Select the game and start playing!
Here are a few helpful hints when playing Pokemon Ultra Shiny Gold Sigma:
Be wary – this game can be more complicated than its predecessors! As more powerful Pokemon are available to catch and train than before.
Make sure you explore different environments while building other teams to compete against one another!
Mega Evolution, an exciting new mechanic of Pokemon games, allows particular Pokemon to evolve into even stronger forms as time progresses.
For some additional tips from fellow ROM hack fans:
Save often and before facing tough opponents like Gym Leaders or Arena Leaders.
Talk to every NPC you come across; they may provide helpful items or information.
Keeping a Pokedex handy allows you to learn more about each Pokemon encountered!
Feel free to try different strategies and team formations! Experimentation will only serve you well!
Have fun and take on the challenge!
Once you've beaten the game, check out some of the other great Best GBA Pokemon ROM hacks. There's something for everyone, from difficulty hacks to story hacks to even hacks that add new regions and Pokémon.
Credits
To Alex Sanchez, Zel 2.0, NarenJr, Sayer301, Javi4315, GogoJJTech, MrDollsteak, Ruki, Compumax, SageOne, Klofkac, CloneX, Desntknowhowtoplay, Diegoisawesome, Touched, LeParagon, VersekrDark, jiangzhengwenjz, Wan, Franco, and Sergio.
thank you for your hard work and dedication to Pokemon Ultra Shiny Gold Sigma. Your contributions have made the game a truly special experience for fans all over the world.