Since the release of the first Pokémon video games for the Game Boy in 1996, the franchise has become a global phenomenon, capturing the imaginations of millions of people around the world. The franchise includes video games, trading cards, an animated television series, movies, and various merchandise. The Pokémon games have been particularly popular, with over 350 million copies sold worldwide as of 2021. The franchise has also become a cultural icon, with many fans having grown up with the games and continuing to enjoy them as adults.
But even with new Pokémon games appearing every few years, some fans just can't get enough. Enthusiastic modders create their own games in the Pokémon universe, using the game's underlying engine to provide new stories and experiences. These ROM hacks often require you to own the original game, making them a legal way to get even more Pokémon without waiting for Nintendo to release a new official game.
What Is the Pokémon SORS GBA ROM?
Creator: Vytron
Version: Full Release v1.3
Hack of: GBA Pokémon Fire Red
Language: English
Updated: December 25, 2021
Pokémon SORS is a GBA Rom Hack by Vytron based on Pokemon Fire Red in English, released in 2021. This GBA hack features an all-new story, custom soundtrack, and updated graphics that enable NDS-quality graphics on the GBA engine. And It is now available to Download.
Also, be sure to check out the Pokemon Crystal Kaizo!
How ROMS Differ From Official Pokémon Games
ROMs, or "Read-Only Memory" files, are digital copies of original games that are created by copying the game code and data from a physical game cartridge or disk. These copies are often distributed without the permission of the game's creators and are typically modified to include additional features or changes.
As a result, ROMs of official Pokémon games can differ from the original in a number of ways, including:
Additional Features: ROMs may include new features, such as new areas, Pokémon, or gameplay mechanics, that were not present in the original game.
Modifications: ROMs may modify existing features of the game, such as changing the graphics, music, or difficulty level.
Bug Fixes: Some ROMs may include bug fixes that were not present in the original game.
Unofficial Translations: ROMs may also be created to translate the game into other languages that were not officially supported by the original game.
Another great feature of ROM hacks is that they run on emulators. Since you can install an emulator on your mobile, desktop computer or laptop, you can play Pokémon SORS GBA ROM no matter where you are.
Story
Before the game, 300 hundred years ago, an event called "The Darkness" took place in the Hornet region. During the eclipse, the Pokemon went wild and took on different forms. Now, in the game's current timeline, you must unravel the mystery of where the villain groups are attempting to restore the eclipse.
Since there is the Eclipse type, they even have success with it. Don't forget to use the Pokemon elements like in the other games.
Characteristics
Let's start with the fact that the Eclipse type exists and only a few Pokemon have it. The roster itself goes all the way up to Gen 7 with around 700+ Pokemon and 40+ Eclipse types.
The graphics and visual elements are based on the DS games like HGGS and B2W2. New music and sounds have also been added as you explore the Hornest region. There are also a number of side quests that you can take on in the game.
Features
A new region to discover, Hupest!
A Custom soundtrack (tracks from various, media remixed with my own style with a B2&W2 Soundfont)
A BW/HGSS inspired art design
Updated battle mechanics to Generation 7 (Moves, Pokemon, PSS split etc.)
(Almost)Full National Dex until Gen 7 (758 species plus 48 Eclipse Pokemon)
A new battle mechanic, Eclipsing
Side Quests (With an actual Quest Log)
Day/Night System and possible D&N events
Many aesthetic updates (transparent textboxes, etc.)
Soaring
Download Pre-Patched Sors GBA Rom
Note: The recommended emulators are VBA, My Boy!, and John GBA. Fast forward is not recommended.
Screenshots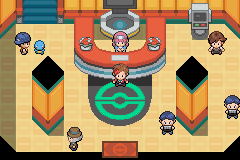 Guide to play SORS GBA ROM on windows, Mac, Android, Linux
To play GBA ROMs on Windows, Mac, Android, or Linux, you will need to follow these general steps:
Obtain a GBA emulator: There are various emulators available for different operating systems, such as VisualBoy Advance, mGBA, No$GBA, and others. You can find and download these emulators from Pokemerald.com.
Download the GBA ROMs: After downloading the emulator, you will need to obtain the Pokémon SORS GBA ROM.
Open the emulator: Once you have downloaded the emulator and the ROMs, open the emulator and select "File" and then "Open" to browse and select the ROM you want to play.
Customize the settings: You can customize the emulator settings such as screen size, audio, controls, and save state options.
Play the game: After selecting the ROM and adjusting the settings, you can start playing the game.
FAQs
Where can I find Ralts in Sors?
Ralts can be caught in Elegant Valley (Sp. Attack Zone), Route 3, in Trade, in Pokémon Roulette, or in Swarms.
Where is hms in pokemon sors?
There are no HMs in Pokemon SORS, so you can use this ability at any time. Interact with water and you will surf! Surf east if you can and continue until you reach Aurin Town.