Pokemon Mystery Dungeon : Explorers of Heaven is a NDS Rom Hack by babou based on Pokémon Mystery Dungeon in english. And it is now available to download. It was last updated on July 28, 2021.
Download Pokemon Mystery Dungeon : Explorers of Heaven NDS Rom Hack
Creator: babou
Version: v2.1
Hack of: Pokémon Mystery Dungeon
Updated: July 28, 2021
Also, be sure to check out Pokemon Moon Black 2!
Presentation
Hello everyone! Here is the presentation of Pokemon Mystery Dungeon: Explorers of Heaven. I've always loved Pokemon Mystery Dungeon, but I've always been frustrated by the lack of difficulty, and the fact that the game was ending without any QoL connected through the game, like IQ, moves, and other mechanics offered. After discovering SkyTemple I tried to create my own rom hack to finally get the game I always wanted to play.
Here's what you can expect with Pokemon Mystery Dungeon: Explorers of Heaven:
Choose your difficulty level
New starters and new Pokemon from generations 5 to 8.
New dungeons, boss fights and items.
Fairy type has been added.
Mega Evolution
Brilliant Hunt
And other functions.
There is also a second version "Explorers of Hell" available via Discord. This version has altered all the dialogues with dark humor, so if you are sensitive I don't recommend you to play it.
Features
You have access to "farm" dungeons with the Spinda coffee. You will be able to farm IQ, money and get some important items like Friend Sheet.
Some Pokemon skills have been changed or added. I won't reveal everything but for example Cranidos gets Rockhead, Ninetales gets Drought, Ponyta and Rapidash get Swift Feet instead of Run Away etc…
The puzzles in the Aegis Cave will be much easier to solve, the stones will take less time to find them, for example in the Ice Aegis Cave there will only be Unown I, C and E.
5 dungeons "Heaven", all with different characteristics (e.g. Hell North will be the consequence of all bosses with "rest room" between 3 bosses), but with an extreme level of difficulty.
Some Pokémon will have their shiny forms in the game. The list of Pokémon and their localities can be found further down in the thread.
If a legendary Pokemon has an IQ of 999, it can change its form to shiny. Giratina will be able to switch freely between its two forms once it has an IQ of 360. Dialga can change form and transform into Ur-Dialga with an IQ of 360.
The effect of some attacks has been changed. For example, Surf hits all space, Knock Off deals damage, Howl affects all allies, and many other changes and adjustments. Speed-boosting moves received a major PP nerf.
Speed increase and decrease time has been reduced.
After completing the guild, you will have access to the future dungeons.
In the base game, the Pokemon appear every 36 turns. Here they appear every 11 rounds.
All Pokémon in the game can be recruited, including Crimson Kecleon and Arceus.
The Orange Berry now gives 250 HP.
The IQ skill Intimidator now has a 16% activation chance instead of 32%.
Pokemon now have both their egg moves and their new attacks in their level-up moves.
The Marowak Dojo will contain 4 very difficult floors and an extremely difficult boss at the end. I recommend you try it only after completing the post game.
There are many more features, but I'll leave it up to you to discover them in the game.
New gameplay mechanics
After the quiz you can choose whether the starter suits you or not, like in the last PMD games (thanks to irdkwia).
You no longer have a boring tutorial when you start the first dungeon (thanks to End45).
Teammates can now activate traps (thanks to Cipnit).
All Pokemon get experience points, even those that weren't in the dungeon like in the last PMD games (thanks to irdkwia)
If you press start, you can switch between automatic and manual mode. In manual mode, you can fully control your team during their turn (thanks to Cipnit).
There is the move shortcuts system like in the last PMD games. By pressing L + A/B/X/Y you can select a move you want to use (thanks to End45 and irdkwia).
New Pokémon
#039 – Vulpix Alola
#040 – Ninetales Alola
#222 – Corsola Alola
#494 – Victini
#495 – Snivy
#496 – Servine
#497 – Serperior
#498 – Tepig
#499 – Pignite
#500 – Embroar
#501 – Oshawott
#502 – Dewott
#503 – Samurott
#508 – Stoutland
#531 – Audino
#547 – Whimsicott
#556 – Maractus
#560 – Scrafty
#568 – Trubbish
#570 – Zorua (+ Hisui Form)
#571 – Zoroark (+ Hisui Form)
#572 – Minccino
#575 – Gothorita
#585 – Deerling
#587 – Emolga
#595 – Joltik
#596 – Galvantula
#609 – Chandelure
#610 – Axew
#619 – Mienfoo
#623 – Golurk
#625 – Bisharp
#630 – Mandibuzz
#637 – Volcarona
#643 – Reshiram
#644 – Zekrom
#647 – Keldeo
#648 – Meloetta
#649 – Genesect
#650 – Chespin
#653 – Fennekin
#654 – Braixen
#655 – Delphox
#658 – Greninja
#677 – Espurr
#678 – Meowstic-M
#678 – Meowstic-F
#694 – Helioptile
#698 – Amaura
#699 – Aurorus
#700 – Sylveon
#715 – Noivern
#717 – Yveltal
#719 – Diancie
#720 – Hoopa
#722 – Rowlet
#723 – Datrix
#724 – Decidueye
#744 – Rockruff
#753 – Fomantis
#758 – Salazzle
#762 – Tsareena
#768 – Golisopoad
#769 – Sandygast
#777 – Togedemaru
#780 – Drampa
#789 – Cosmog
#791 – Solgaleo
#793 – Nihilego
#794 – Buzzwole
#795 – Pheromosa
#796 – Xurkitree
#797 – Celesteela
#798 – Kartana
#799 – Guzzlord
#800 – Necrozma
#802 – Marshadow
#803 – Poipole
#804 – Naganadel
#813 – Scorbunny
#814 – Raboot
#815 – Cinderace
#828 – Thievul
#831 – Wooloo
#840 – Appletun
#845 – Cramorant
#858 – Hatterene
#864 – Cursola
#876 – Indeedee-F
#894 – Regieleki
#895 – Regidrago
#890 – Eternatus
New moves
Acrobatics
Foul Play
Liquidation
Moonblast
Dazzling Gleam
Boomburst
Searing Shot
Play Rough
Icicle Crash
Scald
Mystical Fire
Solar Blade
Drill Run
Disarming Voice
Fairy Wind
Brutal Swing
Relic Song
Origin Pulse
Precipice Blades
Dragon Ascent
Freeze-Dry
Dragon Tail
Clear Smog
Soak
V-Create
Heal Pulse
Hex
Hurricane
Psyshock
Quiver Dance
Simple Beam
First Impression
Spectral Thief
Body Press
Steel Beam
Mind Blown
Poltergeist
Sludge Wave
Volt Switch
Psystrike
High Horsepower
Diamond Storm
Hyperspace Hole
Power-Up Punch
Oblivion Wings
Dual Shop
Wild Charge
Smart Strike
Prismatic Laser
Sunsteel Strike
Pyro Ball
Dynamax Cannon
Flip Turn
Triple Axel
Dual Wingbeat
Scorching Sands
Burning Jealousy
Leafage
Petal Blizzard
Pollen Puff
Autotomize
Bulldoze
Night Daze
Electroweb
Razor Shell
Leaf Tornado
Spirit Shackle
Heavy Slam
Heat Crash
Final Gambit
Trop Kick
Apple Acid
Heart Stamp
Draining Kiss
Fiery Dance
Lunge
Sacred Sword
Techno Blast
Master Player
Pokemon Mystery Dungeon : Explorers of Heaven will offer you to participate in a challenge: Master Player. In this challenge, your stats cannot exceed 200, and you will have several quests to complete. By successfully completing the 5 challenges, you will get a special role on our Discord and your name engraved on a stele.
For more information, join the Babou's Guild discord, everything is explained there. Good luck to the most determined players!
Useful Data
Pokemon shiny location :
Azumarill – Flooded Valley 5F
Magikarp – Waterfall Legend 5F
Umbreon – Mt. Wrestler 3F
Salamence – Grumble Volcano 5F
Metagross – Stormy Plain 4F
Steelix – Dry Dry Desert 5F
Flygon – Bone-Dry Dunes 4F
Porygon2 – Icy Crossing 3F
Luxray – Skull Cave 5F
Sableye – Murderous Jungle 3F
PorygonZ – Fossil Cave 4F
Charizard – Toadwood Forest 4F
Gardevoir – Spirit Forest 5F
Altaria – Drum Island 6F
Milotic – All Blue 3F
Ditto – Ruins of Decision 5F
Claydol – Mt. Bew 4F
Dusknoir – Shining Space 5F
Spiritomb – Black World 4F
Eevee – Final Maze 44F
Purple Kecleon – Hell/Heaven Center 46F
Legendary Shiny Form (Only Gen 1 to 4 + Eternatus) – 999 IQ
Lugia : Dark Form – 999 IQ
Dialga : Primal Form – 360 IQ
Giratina : Alternative Form – 360 IQ
Necrozma : Ultra Form – 600 IQ
Location of Pokemon found with the Mystery Part / Secret Slab : 
Articuno – Icy Crossing 10F
Zapdos – Far Stormy Plain 4F
Moltres – Upper Grumble Volcano 2F
Mew – Spirit Forest 7F
Celebi – Lost Woods 10F
Latios – Mt. Bew 9F
Latias – Shining Space 6F
Deoxys – The Moon 13F
Heatran – Deep Shining Space 4F
Darkrai – Black World 32F
Victini – Mt. Victory 15F 
Reshiram – Dragonspiral Tower 36F
Zekrom – Dragonspiral Tower 48F
Keldeo – Hoopa's Portal 21F
Meloetta – Melody Tower 9F
Genesect – Hoopa's Portal 38F
Diancie – Hoopa's Portal 7F 
Hoopa – Hoopa's Portal 1F 
Yveltal – Hoopa's Portal 53F
Poipole – Ultra Wormhole 2F
Nihilego – Ultra Wormhole 4F 
Buzzwole – Ultra Wormhole 7F
Pheromosa – Ultra Wormhole 12F 
Xurkitree – Ultra Wormhole 18F
Celesteela – Ultra Wormhole 25F
Kartana – Ultra Wormhole 28F 
Guzzlord – Ultra Wormhole 33F 
Naganadel – Ultra Wormhole 36F
Stakataka – Ultra Wormhole 38F
Blacephalon – Ultra Wormhole 41F 
Cosmog – Ultra Wormhole 43F
Solgaleo – Ultra Wormhole 45F
Necrozma – Ultra Wormhole 49F 
Marshadow – Shadow Carry 15F
Regieleki – Ruins of Decision 6F
Regidrago – Ruins of Decision 12F
All IQ Groups in Heaven and Hell (Thanks to Picalex) :
Pokemon Locations (Thanks to Migo) : 
Général Guide (Thanks to Smash) : 
Screenshots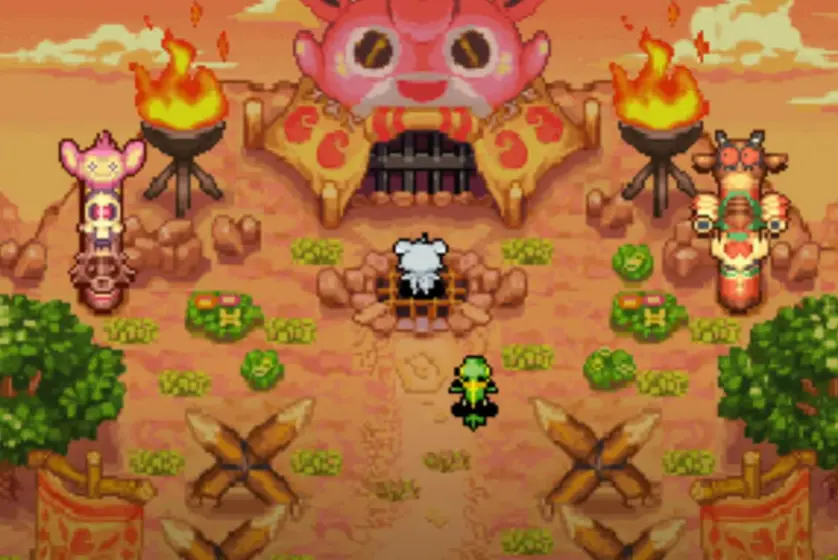 Game Download
Note: You will need to patch a Pokemon Mystery Dungeon: Sky Explorer US rom. Avoid using savestates to apply future patches. In the file, you will have a tutorial to patch your rom. 
Credits
Mond
Emmufin / @Ernmuffin
NeroIntruder
Blanca
Noivern / @Notarealnoivern
Emboarger
DonkinDo
Monochrome Kirby / @MonochromeKirby
Baroness Faron
MUCRUSH
POWERCRISTAL
Smalusion / @Smalusion
XxWindpawxX
Precascer
Miao
Deleca7755
namu
Wyvernagon / @Z_Serpentriss
Nooga
Lovi
EZERART