Pokemon Fusion 3 is a GBA rom hack by Grillo & Lugre based on Pokemon Emerald with different Pokemon fusions including Pokemon from Alola region. Pokemon Fusion 3 Download MediaFire Links.
Download Pokemon Fusion 3 GBA Rom
Creator: Grillo & Lugre
Version: Completed
Hack by: Emerald
Updated on: December 24, 2021
Language: English
Also, be sure to try out Pokemon Fused Dimensions
Today we will play Pokemon Fusion 3 from Grillo, Lugre and Kimba! It is a GBA Hack ROM based on Pokemon Emerald.
This game is the same as Pokemon Emerald but you have over 170 new fusion Pokemon in the game. It is completed in Spanish. And now, let's play!
Pokémon Fusion 3 is our third installment in the Fusion saga, the one we've worked on the most and is undoubtedly the best of them all. It includes over 170 new fusions, including legendary events. All Pokémon in the Hoenn region have been swapped out for a unique new experience.
Also, be sure to try out Pokemon Xenoverse.
Features
Only fusions appear in the game
164 new fusions
Minisprites from all fusions
All Hoenn legends merged
Fusion overworlds
All shiny shapes
Attacks, skills and statistics of each fusion
Lore and description of the Dex of each amalgamation
Available legendary events
Cheats Codes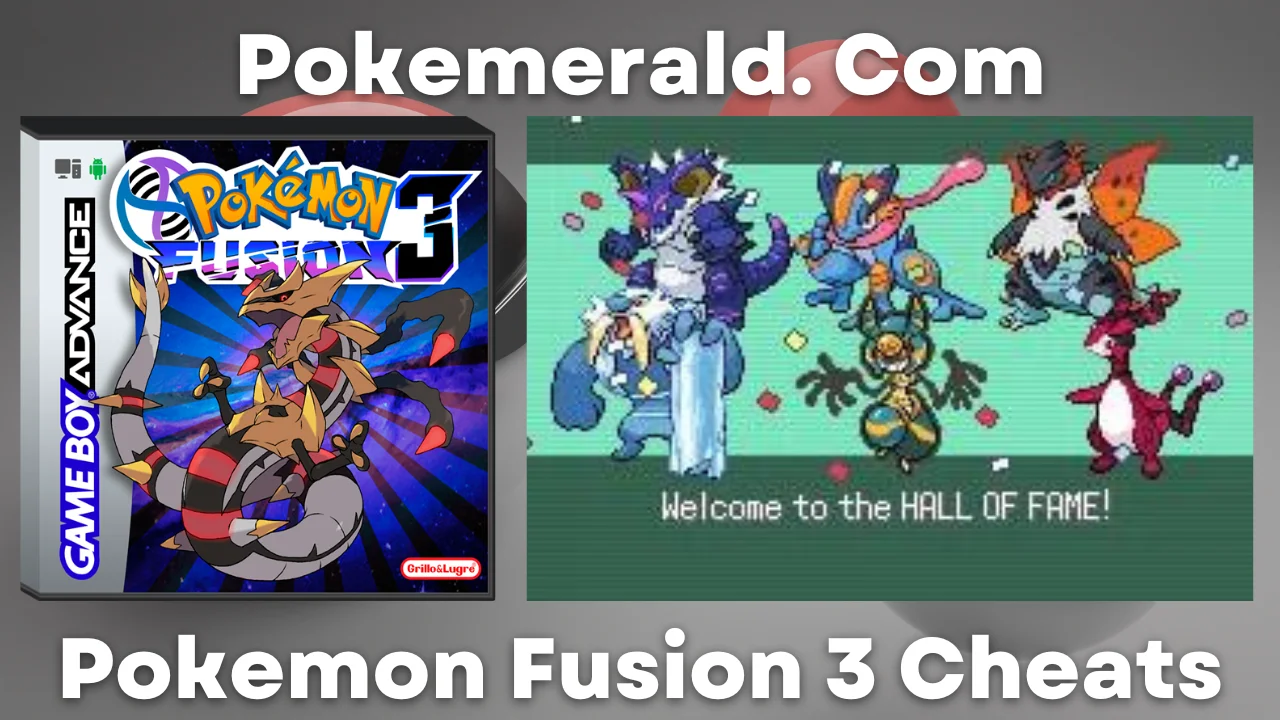 Remember to save all your progress before try any codes. They may harm your game.
Walk Through Walls
7881A409 E2026E0C
C56CFACA DC167904
Unlimited Master Ball
128898B6 EDA43037
Unlimited Rare Candy
BFF956FA 2F9EC50D
Infinite Money
d8bae4d9
4864dce5
a86cdba5
19ba49b3
a57e2ede
a5aff3e4
1c7b3231
b494738c
c051ccf6
975e8da1
Unlimited Trade Stone
You should use this code before you meet 5th GYM leader. After enter it, the first item in Pokemart will be Trade Stone. Required "Real Time Clock".
82005274 0066
Own All Poke Balls (someone reports it maybe harm your game)
085938bb 99ff313d
2dafd739 5d796510Remember to save all your progress before try any codes. They may harm your game.
Walk Through Walls
7881A409 E2026E0C
C56CFACA DC167904
Unlimited Master Ball
128898B6 EDA43037
Unlimited Rare Candy
BFF956FA 2F9EC50D
Infinite Money
d8bae4d9
4864dce5
a86cdba5
19ba49b3
a57e2ede
a5aff3e4
1c7b3231
b494738c
c051ccf6
975e8da1
Unlimited Trade Stone
You should use this code before you meet 5th GYM leader. After enter it, the first item in Pokemart will be Trade Stone. Required "Real Time Clock".
82005274 0066
Own All Poke Balls (someone reports it maybe harm your game)
085938bb 99ff313d
2dafd739 5d796510
Pokemon Fusion 3 Download Links