Pokemon Vanguard is an RPGXP FanGame made using Pokemon Essentials v19.1. And it is now available to download. It was last updated on March 16, 2023.
Download Pokemon Vanguard (RPGXP) FanGame
| | |
| --- | --- |
| made using  | Pokemon Essentials v19.1 |
| Creator | Ayrei |
| Version | v2.2.9 |
| Updated | March 16, 2023 |
| Progress | Goes up to Chapter 19, about 16-17 hours of playtime. |
Also, be sure to check out Pokémon Conquest: Reconquered!
Description
Part of being a Pokemon Trainer's life is leaving home early, collecting Sports Badges and Pokemon, and competing in the Pokemon League. It was what everyone wanted to be when they were young and anyone could do it with ease.
That was over 50 years ago…
In Ayrei, the first region to enter modernity, Pokemon trainers are tasked with protecting the lives of innocent people and Pokemon around the world. You cannot become or act as a Pokemon trainer without the appropriate training license. Opposite them are the renegades, who claim the title of Pokemon trainer but defy these modern laws and ideas.
You wake up in this region with no memories, no Pokemon, just a name. With nowhere else to go, you're invited to Vanguard Academy, a school with one goal: to train the next generation of Pokemon trainers.
Characteristics
Regional Variants: Meet new and unique regional variants of well-known Pokemon! Some of them specialize in non-existent type combinations!
New Region: Enter Ayrei, a region divided into four separate quadrants, each teeming with life.
Expanded Pokedex: With every Pokemon from Gen 1-8, you'll have a wealth of Pokemon to build your team from!
Story: Experience a new and compelling story that evolves more and more into an untraditional Pokemon story as the game progresses.
New starting players
Pokemon from Gen 1-8
Custom player models
One of the most epic and unique soundtracks you will find in a Pokemon fangame
Improved UI
side quests
Improved Gen 4 graphics
And much more!
Screenshots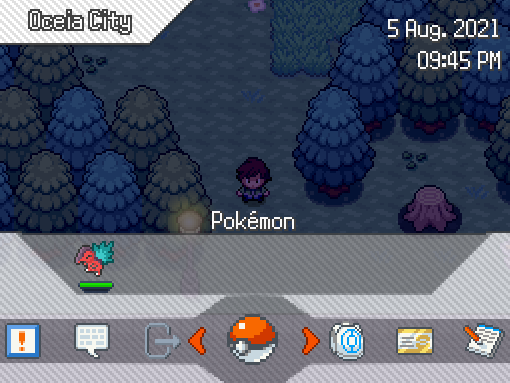 Useful Stuff
Download Links
FAQs
How many gyms does the game have/how long is the game?
The game uses a different progression system than gyms. The game is about 17-18 hours long with 21 chapters available with a level cap of 45.
What is the speed up key?
If you press f1, you will bring up a controls page. The bind at the top right is the speed up key. I believe it is M or Q by default
Can I play this Game on mobile?
If you have an android, joiplay might work but I can't provide any support if it doesn't.
What emulator do I use to play this?
On windows? None! Just extract the game files and click Game.exe! On android you can use joiplay, but once again I can't provide any support if that doesn't work.
When I download the game, I get an unidentifiable file, what do I do?
You need a .rar extractor to play the game, I recommend winrar.
Credits
A full list of credits for development and resources used.
Ayrei – Lead developer, story, eventing, mapping, spriting, shaking and screaming in essentials.
Spriting – JaoCraftBr, Celestial Fearow, Chobbis3, Chobbis4, Pixeldust64, Givemeloop, Kana, Darkside Official
Mapping – Kurisutaru, IceGummi, Chobbis3
Beta Testers – ReintendoO, Jecotto03, CelestialFearow
Credits
Pokemon Essentials v19.1 by Maruno
Graphics
Magiscarf
WesleyFG
SailorVicious (Formerly known as Heavy-Metal-Lover)
Shawn Frost
NSora-96
PeekyChew
MewTheMega
Kyle-Dove
Pablus94
Princess Phoenix
Zeo254
Claisprojects.com
Minorthreat0987
The-Red-Ex
UltimoSpriter
TyranitarDark
DarkDragonn
rafa-cac
Phyromatical
Alucus
Newtiteuf
ChaoticCherryCake
moca
Akizakura16
Kyle-Dove​
Clara-WaH
Mr. Gela
Voltseon
Neo-Spriteman
VanillaSunshine
PurpleZaffre & Maicerochico
AtomicReactor
Zerokid
Amethyst
Jan
Zumi
Bazaro
Koyo
Smeargletail
Alex
Noscium
Leparagon
N-kin
fishbowlsoul90
princess-phoenix
DatLopunnyTho
Conyjams
kaji atsu
The cynical poet
LuigiPlayer
Falgaia
Pikafan2000
Mashirosakura (Magearna recolours)
Lord-Myre
MillaLya
AveonTrainer
JorgeBurgos
KajiAtsui
cubeR
DiegoWT
rhaidor
Music
GlitchxCity
VanniluxePavilion
Kamex
Bliitzit
Sheddy
Mewmore
Battle backgrounds
Aeveontrainer
Advanced Pokedex
FL