Pokemon Amonite is a fan-made game by CarlosPR Made Using RPG Maker, Pokémon Essentials V20.1 in english. And it is now available to download. The last update was on Apr 10, 2023.
Download Pokemon Amonite RPG Maker XP Fan-Game
| | |
| --- | --- |
| Name | Pokemon Amonite |
| Size | 472 MB |
| Version | 1.0.1 |
| Console | Windows, Mac, Android (Emulator) |
| Developer | CarlosPR  |
| Built on | Pokémon Essentials V20.1 |
| Genre | Role-Playing |
| Language | English |
| Release Date | Apr 10, 2023 |
Plot and Summary
You have become old enough to become a Pokémon Trainer and when you wake up you decide to go in an adventure with your brother/sister. Your friend next door will help his dad to do some research but also will be one of your rivals. Play and explore the world that Amonite have to offer.
Also, be sure to try out Pokemon Quetzal!
Features
Gen 4 and 5 style mapping
Mega Evolution
X Moves
Dynamax
Terra Phenomenon
Follow Pokemon
Extreme challenges
24/7 gym: a gym that you can train in anytime you want
Screenshots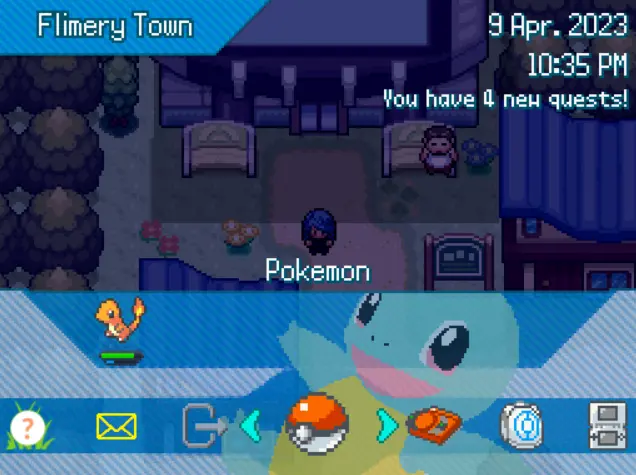 Download
Useful Stuff
General Guide To Play Pokemon Amonite RPG Maker game On a PC
Certainly! Here's a simplified guide to play Pokemon Amonite RPG Maker game on your PC in five steps:
Download RPG Maker: Visit the RPG Maker website and download the RPG Maker software (e.g., RPG Maker XP, RPG Maker VX Ace, RPG Maker MV).
Download the Pokémon fan game
Extract the game files: Use a file extraction tool like WinRAR or 7-Zip to extract the downloaded game files to a location of your choice.
Open RPG Maker: Launch the RPG Maker software on your PC.
Open the project and play: In RPG Maker, open the extracted game files by selecting the "Open Project" or "Open Game" option. Once the project is loaded, look for a "Play" button or similar option to start playing the Pokémon fan game.
Remember to only download and play games that have been legally distributed by the creators to respect copyright and intellectual property laws. Enjoy your Pokemon Amonite experience!