Pokemon Emerald Chaos Ambulation is a GBA ROM Hack by Inkbox Software based on Pokemon Emerald in English. And it's now available for download. It was last updated on November 3, 2022.
Download Pokemon Emerald Chaos Ambulation GBA ROM Hack
Creator: Inkwell Software
Version: v1.0
Hack by: Emerald
Updated on: November 3, 2022
Language: English
Be sure to see Pokemon Orange too
Description
Pokémon Emerald Chaos Ambulation is a randomizer hack for Pokémon Emerald that allows all 386 Pokémon to follow the player. The first Pokémon in the group will follow the player.
Features
The overworld sprites are from Pokémon HeartGold and SoulSilver and imported into this game.
All Pokémon battles and encounters are randomly selected from the 386 Pokémon, but are at the same level as the original Pokémon. (A level 5 Ralts, for example, could transform into any Pokemon of that level, with all the associated moves of the new Pokemon).
Known bugs
Some colors may be incorrect as two palettes must be used to properly color the Overworld Pokémon sprites.
Screenshots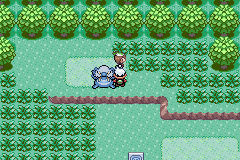 Download