Pokemon Mugiwara is a GBA Rom Hack by Ryuko72 based on Pokemon Fire Red. There is no news regarding a release date as of now.
Download Pokemon Mugiwara GBA ROM Hack
| | |
| --- | --- |
| Name | Pokemon Mugiwara |
| Creator | Ryuko72 |
| Version | In Development |
| Hack of | Pokemon FireRed |
| Release Date | Unknown |
The One Piece series is one of the most famous manga and anime franchises to date. She's been around since 1999, just a few years after the release of Pokemon Red and Blue, which underscores her enduring presence and influence.
Plot
You embark on uncharted waters from Mansion Foosha with your goal of becoming the Pirate King. After sailing a few miles your ship is attacked by the infamous ship Miss Love. After overcoming a few challenges, you successfully assemble the necessary crew to begin your great adventure. Rumors are circulating about a mysterious expanse known as the "Grand Line" that is said to hold hidden treasure. Whoever lays claim to this treasure will be revered as the undisputed Pirate King!
Also, be sure to try out Pokemon Gold and Silver 97 Reforged.
Features
Renewed tile set and graphical improvements
Dynamic Palettes
Attacks up to 7th generation
Infinite TM system
BW style animated Pokemon from all generations
Characteristics according to nature
Vertical Climbing
Events and window lighting with the RTC
Physical/Special Split System
Micrograss from Pokemon Ruby
BW options menu
Schedule combat system
track Pokemon
Screenshots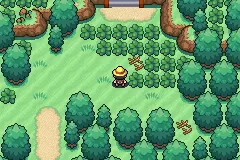 Stay in touch with the Dev
Download
Credits
Sayer301
Inmortal Kaktus
piphybuilder88
le_paragon
Neon Skylar
EventoHorizontal
JaegerLucciano23
a jr
Cinnaboopa
hanatana
PokeFusion Spriter
ToxShadows642
mjco
oscuro oscuro
UlitioDragon
EmmaRoak
Megagreninja
nexxo 019
Gnomowladny
ozkars261
LEANBOOX
Pastel de Kibou
Hielo esférico
Está bien
Sacudida
Ryder traducción pokedex
MrDollSteak
Klohinx
CaoticCherryCake
Nachosky
T17i4n0
��ACE10��
Omega
taylerosi
KalerioDion
hecbator
SanjiroRH
aveontrainer
JynxedOnes
Icejkai
Joni:RE
Andrea
eMMe97
jiangzhengwenjz
Larryturbo
Zeak6464
Fm
Zeo
Zeikaro
Alissa White gluz R7
Snivy101
Diegotoon20
(en su mayoría) Darkdragon
Wesley FG
Trevor
Ninetales001
haissam hamoui
morlockhater
Pañuelo
princesa fénix
PkmnAlexandrite
The-Red-eX
Penzo94
Novus
Newtiteuf
Atten974
Hydragirium y Alistair
PureAzuure
TheGatolete2
Drawnamu
Listado
Rverah-duh Platinum
Tirano Spacemotion
Beliot419
Ema.D.Art
GoSuTo
VentZX
Sonic_1
Red7246
Fénix
Acimut