Download Pokemon Girls Hunter GBA Rom Hack by fz15 based on Pokemon FireRed in English. And it's now available for download.
Download Pokemon Girls Hunter GBA Rom
Creator: fz15
Version: Completed
Hack by: FeuerRot
Updated on: September 2, 2021
Story
In the Puela region, Team Rocket invented the Human Balls, these special Pokeballs can be used to capture human girls. This makes Team Rocket much more powerful than it was. To stop them, Cassie, a police officer from Puela, decided to enlist the help of her old friend Seda who has traveled all over Puela and is therefore an experienced trainer.
Be sure to check out Pokemon Radical Red Download!
Features
A few additional Pokemon from future gens.
A new form of Mega Evolution.
Pokemon from other generations!
Special event tickets unlock Mystery Gift and you can find MG Receptionist at the top of all Pokémon Centers.
At the start of the game you have 10 Pokemon to play with.
How To Play Pokemon Girls Hunter Rom GBA Hack On Pc
To play Pokemon Girls Hunter Game Boy Advance (GBA) ROM hack on your PC, you will need to use an emulator. An emulator is a piece of software that allows you to run games designed for a different platform, in this case a GBA, on your PC. Here's how you can do it:
Download an emulator: There are many GBA emulators available online. Some popular ones are VisualBoy Advance, mGBA, and RetroArch. Choose one that you like and download it to your PC.
Get Pokemon Girls Hunter ROM: Next, you will need to download Pokemon Girls Hunter GBA ROM.
Load the Pokemon Girls Hunter ROM into the emulator: Once you have both the emulator and the ROM, launch the emulator and click on the "File" menu. From there, select "Open" and find the ROM file on your computer. Double-click on the ROM file to load it into the emulator.
Play Pokemon Girls Hunter game: The game should now start, and you can play it just as you would on a real GBA. You can use your keyboard or a gamepad to control the game.
Note: Some ROM hacks may not work with every emulator, so you may need to try a few different emulators before you find one that works with your ROM.
Screenshots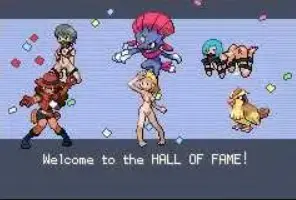 Download
Credits