Pokemon Retired Champion is a fan-made Pokemon game by StCooler using RPG Maker XP. And it is now available to download. It was last updated on June 13, 2023.
Pokemon Retired Champion – A strategy-based fangame
Creator : StCooler
Language : English
Version : v1.0.6
Updated : June 13, 2023
Also, be sure to try out Pokemon Victory Fire.
SYNOPSIS
Like most adventurers, Einra roamed the lands and seas with the sole aim of becoming the best. Loyal Gym Leaders, Elite Four, Champion, Team Generic Evil all had their values and ambitions, but none presented a challenge.
With no interest in further adventures, Einra one day found an abandoned amusement park and, with the help of his longtime friends, rebuilt it into what is now the well-known Castle of Challenges. Park visitors come to assemble a Pokémon team from the game board and challenge each other.
Einra and his friends have exciting battles almost every day, and almost every day has been peaceful… until… strangely colored Pokémon are found in the amusement park.
CONTENT
Around 10-15 hours of gameplay.
A character-driven story. Enjoy a new formula of Pokémon fangames that doesn't mimic the formula of official games (e.g. no badges, no gyms, no Elite 4).
All Pokémons* from Gen 1 to 8, including the new content from Pokémon Legends: Arceus.
Around 130 new Pokémon forms, ~40 new moves, ~30 new abilities, ~40 new items.
Some Pokémons have been re-balanced (detailed list in the manual).
Mega-Evolutions, Z-moves and Dynamax are all available.
New battle mechanic: Assistance. Let a Pokémon from your team help another one in battle!
New battle mechanic: Battle Royale. Challenge up to 5 other trainers at the same time and try to be the last one standing!
New battle mechanic: Move Seeds. Directly set up a Pokémon on switching in!
More chaotic multi battle! Try your best at 4v4, 5v5, and 6v6!
A high focus on strategic battles: enjoy multiple tiers**, battle formats and rulesets!
Enter challenging battles in which you cannot be overpowered, good luck and have fun on your plays of strategies!
No catching, no farming. Instead, enjoy a Pokémon Showdown-like menu to strategically build synergic teams!
Don't know how to build a team? Try the random team generator!
If the battles are too hard for you, the difficulty will adapt to your win rate.
Most of the time, you can focus on fighting and move the story when you decide.
CHANGELOGS
2022-11-06: V1.0.6: solved an error loading the "friend" at the start of the game (depending on your choice of region of origin).
2022-10-18: V1.0.5: solved the error giving a wrong team to an NPC in Chapter 4 + solved an error thrown by the boss battle of Chapter 7 + the panel now proposes weird rules more often + Foxy now proposes chained Battle Royales + White Herb now works properly upon Intimidate + held items remain at the end of battle.
2022-09-29: V1.0.4: solved an issue with Battle Royale not clearing stored teams at the end of the battle.
2022-09-28: V1.0.3: solved a crash with the team builder when making the first team. (Bug introduced in patch 1.0.2 lol)
2022-09-25: V1.0.2: solved the issue causing the Team Builder to freeze when you delete the last team + solved the crash when trying to change the species of the Pokémon in the Team Builder for themed tiers / base stat tiers.
2022-09-22: V1.0.1: solved game-breaking issue with Draft Mode, split the big ZIP file into two parts: Game + Audio.
2022-09-19: V1.0: first release.
NEXT UPDATE
Once the content of Pokémon Scarlet and Violet is available for Pokémon Essentials, I plan to add it to the game, including Terastal.
I also plan to add more tiers with different concepts, but for now I'm not sure how to make them with my current code (Stabmons, Category Swap…).
Foxy should propose Battle Royales. Maybe a tournament too?
Screenshots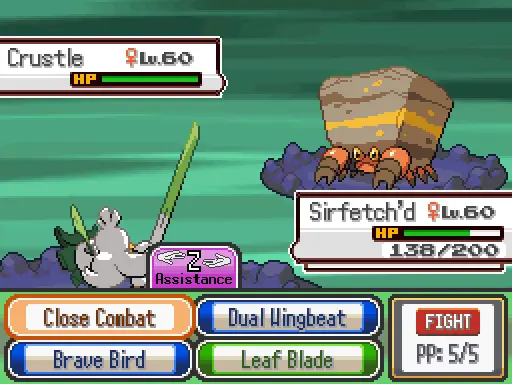 Download & Installation
To make it easier on you and me, I have split the main files and the audio, just in case I have to make script / content update, so you don't have to download 1.4 GB every time.
You need to download both files:
Installation
If you need to update (not a first download), just download the Game part. The Audio part will likely remain unchanged unless specified otherwise.
Unzip the "Pokémon Retired Champion" directory.
Put the "Audio" folder at the same location as the "Data", "Graphics" and "Fonts" folders, as well as the "Game.exe" file.
Credits
StCooler