Pokemon realidea system is a complete fangame in English created by elena and maxewenx. We will have 8 Gyms and Pokémon League, plus a system of missions and new features for this adventure that also has Pokémon battles on the move.
Download Pokemon realidea system in English & Spanish
| | |
| --- | --- |
| Creator | Elena & Maxewenx |
| Version | v3.3 Complete |
| Updated on | September 18th, 2022 |
| Language | Spanish & English |
Also, be sure to try out Pokemon Run And Bun!
Stroy
Esoteria is a peaceful region. You, the protagonist of this story, follow the path that most trainers follow – you collect the 8 badges and face the champion of the Pokémon League.
As you continue your journey, you notice a strange bunch of people trying to… create artificial bonds between Pokémon and trainers? Would something like this be okay?
What is this Realidea system you keep talking about? Is it something everyone should get their hands on…?
Find out where the Metis Corp. investigation is headed. will guide you and your new friends!
Features
Fakemon starter and a new legendary monster. A few regional forms.
Animated battle sprites, clean battle UI
New characters with their own mug shots (which don't appear in the main story, but there are some official photos too!)
Lots of secondary content that can be accessed by completing quests throughout the adventure. Some major quests are unlocked after completing the game
8 Gym Badges and of course a Pokémon League
Lots of QoL features (acceleration, dialog skip and textlog buttons, backup save, evolution method check on overview screen, reminder of free moves and nature change in party menu…)
Screenshots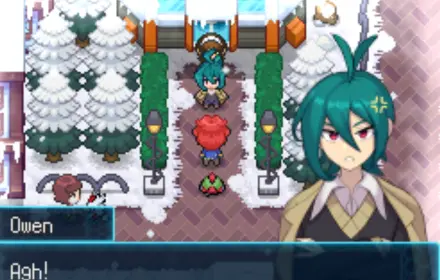 ABOUT THIS TRANSLATION
Realidea System is a complete Spanish fangame that has been translated to English and is now undergoing proper revision.
However, since the quality is kinda decent, I figured some of you would still want to give it a try!
So, is everything translated?
Pretty much! I'd say it's 98% translated. Only a few random texts are missing.
Download
FAQS
Can I play this on Android using Joiplay?
Yes, but please use this version of the app!
Some minigames require a mouse and while the latest version of joiplay claims to support it, the game crashes instead. lol
Please also delete the mkxp.json file from the folder. It crashes the game at the beginning.
How long is this game?
Playing through everything can take about 40 hours. Main story should be around 30 hours depending on your playstyle of course.
What are some codes I can give to the dude in the Pokémon Center?
"nuzlocke" allows to set any Pokémon's level to the highest of your team.
"joiplay" will automatically skip mouse minigames.
Credits
MAIN DEVELOPMENT:
Elena (@pkmn_realidea)
Alfpixel/Maxewenx(@alfpixel)
Translation credit:
Noire (@AzureMoonns)
Rasenvolt (@RasenVolt, https://www.youtube.com/c/RasenVolt)
Lloyd Donovan Moore (@LloydDonovanMo1)