Pokémon Giovanni Origins is RPG Maker XP Hack by DaleFails using Pokémon Essentials v20.1 in English. And it is now available to download. It was last updated on Feb 25, 2023.
Download Pokémon Giovanni Origins RPG Maker XP Hack
Language: English
Creator: DaleFails
Version: 0.1.2
System: RPG Maker XP
Update : Apr 16, 2023
Also, be sure to try out Pokemon Anil.
Story
In Pokémon Giovanni Origins story, set approximately 20 years before the events of Pokémon Red and Pokémon Blue, you take on the role of Team Rocket boss Giovanni's childhood friend.
Growing up in Saffron City, you and Giovanni travel across Kanto and Johto as you compete for gym badges and championships. You'll learn Giovanni's backstory firsthand and watch from the sidelines as your friend descends a dark path and turns to a life of crime.
As you explore Kanto and Johto, you'll see what a difference 20 years can make to a region. Everywhere you look you will find characters and clues to the future games. Enjoy exploring the Pokémon world long before the stories of legendary Pokémon trainers like Red and Blue.
Features
Set roughly 20 years before the events of Pokémon Red and Pokémon Blue versions.
Explore both Kanto and Johto
Explore the regional differences between the Kanto and Johto you know, to the Kanto and Johto of old!
Seek out the original 16 Gym Leaders and Elite Four, hidden around the region as Easter Eggs
Predominantly Kanto Pokémon, with other Pokémon from all other regions available in limited numbers
Find out the backstory of Giovanni, the criminal mastermind behind Team Rocket!
A big plot twist to end the game!
The current demo only features five gym badges and is a work-in-progress – feedback wanted!
Changes since last release
New music and sounds effects throughout
Fuchsia City Safari Zone
Celadon City, Cinnabar Island and Pallet Town now available
Explore Pokémon Mansion on Cinnabar Island, before it was destroyed!
Trainer and levelling rebalance
Much more hidden content, side quests, TMs and HMs
Numerous graphics and text updates / corrections
Essentials version and Plugins used
Pokémon Essentials v20.1
Pokémon Essentials v20.1Hotfixes
Essentials Deluxe
Always in Grass
Generation 8 Pack Scripts
Overworld Shadows EX
Public tiles as sourced from Relic Castle
Tiles and Overworlds from various sources across the Pokémon from over the years
and a huge thanks to the developers of all of the above!
Also, try out Pokemon Flux.
Screenshots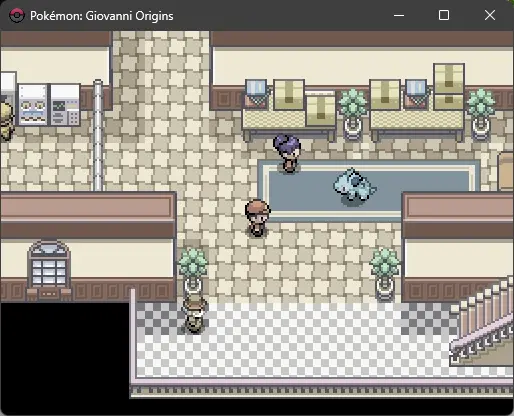 Download
Credits
Game development (mapping, scripting, eventinmg, everything!):
Myself – DaleFails
Pokémon Essentials:
"Pokémon Essentials" was created by:
Flameguru
Poccil (Peter O.)
Maruno