Pokemon Edge Rising is a Pokémon fangame developed in RPG Maker XP using the Pokémon Essentials v20 in English.
Download Pokemon Edge Rising RPG Maker XP Fan Game
| | |
| --- | --- |
| Game Title | Pokemon Edge Rising |
| Version | v2.0 (Completed) |
| Developer | Mak |
| Developed in | RPG Maker XP |
| Genre | Role-Playing |
| Language | English |
| Release Date | 12/12/22 |
Description
Experience the dark, cruel world of the Inferno region, home of death, darkness and lots of black and red.
Follow the journey of Fang, a vengeful teenager as he uncovers a dark truth in the world and those around him. Also monologues. A lot of that.
Also, be sure to try out Pokemon Bushido.
Features
A deep, well-written storyline
A varied region
Extremely complex and thought-provoking characters
45+ Fakemon
Profound moral decisions
NPCs that sometimes say pretty useful things
character portraits
No TMs or HMs
Use Alt to speed up your game.
New in the Revengeance update:
20+ new Fakemon
Various rebalances
Porting the game to Pokémon Essentials v20
An expanded Pokédex featuring Gen 8 Pokémon and more
A new, expanded postgame with even more NPCs that sometimes say pretty useful things
A new combat facility known as the Bell Tower!
And most importantly, a new status condition!
Game Screenshots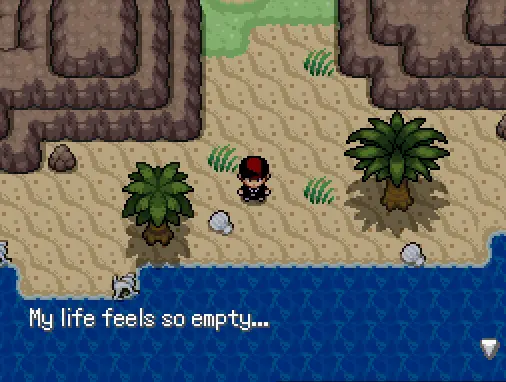 Download
Bugfix Patch: (Drag this into your main folder and replace the files when prompted) (Updated 12/12/22)
Team
Makattack202
SmokedPaprika
Mashirosakura
Techskylander1518
Reintendo0