Download Pokemon Sacred Gold (Pokemon Heart Gold Hack) fan-made ROM hack created by the ROM hacker "Drayano". It is a modification of the original Pokemon Gold game for the Nintendo DS and features new story elements, gameplay mechanics, and Pokemon species.
Download Pokemon Sacred Gold Version
Game Full Name: Pokemon Sacred Gold Version.
Creator: Drayano.
A Remake of Pokemon Fire Red Omega.
Features
Pokemon Sacred Gold ROM hack has several new features and changes compared to the original game, including:
New Pokemon: The hack introduces new Pokemon species to the game, including some from later generations.
Rebalanced Gameplay: The game has been rebalanced to provide a new and different experience compared to the original game.
New Storyline: The hack features a new and expanded storyline with new characters, events, and plot twists.
Improved Graphics: The graphics in the game have been improved to enhance the overall visual experience.
Additional Content: The hack includes additional content, such as new items, moves, abilities, and regions.
It is important to note that these features may vary based on the specific version of the hack.
Download
Screenshots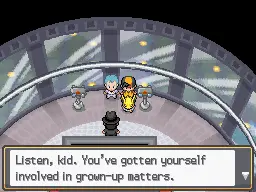 Credits
afcmark15, bossdresser, Joodicator and other friends: For contributing ideas to the hack, as well as helping to test the thing in some cases (not much, but it's something!)
Project Pokémon Forums: Again, for any help you've provided regarding HG/SS issues, either to myself or to other people.
Alpha and SCV: Although it hasn't been updated for a while, PPRE is the most important thing needed to create this hack. I appreciate that very much.
KazoWAR: His tutorial on inserting sprites in HG/SS was important to insert the steven sprite.
Dewgong/Frostbite: For the steven trainer sprite added to the game.
Various GBAtemp / YouTube members: For their continuous support and ideas throughout the production of SG/SS.
Jhon 591 from Romulation: For his vastly improved HG/SS anti-piracy patch, which means you can play the game on no$gba WITHOUT it crashing every five seconds!
Jensei: For beating the game pretty quickly and pointing out bugs in the early versions. I can't say it looks good on me, but it helped!
Early Players: I can't thank you enough for helping me with all the bugs and I apologize for forcing you to download so many times!