Download Pokemon Memories GBA ROM Hack Pre-Patched
Devloper: MrTorowing
Version: v1.0
Based on: Ruby
Last Updated: March 1, 2023
Language: Spanish
Download Pokemon Memories GBA Rom Hack by MrTorowing based on Pokemon Ruby in Spanish. This game is currently available for download and was last updated on March 1, 2023, ensuring that players can enjoy the latest version with all the newest features and improvements.
Also, be sure to check out Pokemon Infinite Fusion!
Description
This Ruby Hack provides players with a fresh set of adventures and an expanded gameplay experience. It offers new content that adds to the excitement and challenges of the original game, providing players with a unique and engaging gameplay experience. With its updated features and enhanced gameplay, Pokemon Memories is sure to keep players entertained and engaged for hours on end.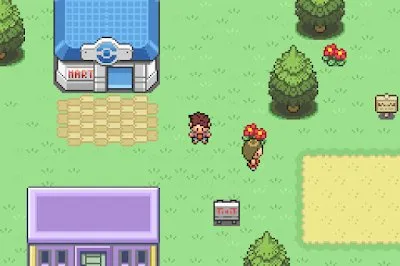 Features
Explore all 9 generations of Pokemon, including the latest addition of Hisuian Forms.
Immerse yourself in a new and exciting storyline that features exclusive events and challenges.
Harness the power of Mega Evolution and Gigantamax Forms to give your Pokemon an extra edge in battle.
Encounter Team Rainbow Rocket, a group made up of all the notorious bosses from past Pokemon games.
Uncover new secrets, traverse ultra wormholes, and catch powerful legendaries to add to your collection.
Face off against a new rival and take on fresh gym leaders, as well as characters from the Pokemon anime.
Prepare for the ultimate challenge with Double Elite Four battles, where you must defeat two members in a row.
Obtain exclusive items such as the Link Cable, which can be used to evolve certain Pokemon.
Download Links (DESCARGA COMPLETO)
How To Play Pokemon Memories
Playing Pokemon Memories GBA ROM hack is similar to playing any other GBA game on an emulator. Here are the steps you can follow:
First, you need to download a GBA emulator on your computer or mobile device. There are many emulators available online, such as Visual Boy Advance, mGBA, and My Boy!.
Once you have downloaded and installed the emulator, you need to download the Pokemon Memories GBA ROM hack.
After you have downloaded the ROM hack, open the emulator and click on the "File" option. From there, select "Open ROM" and navigate to the location where you have saved the ROM hack.
Once you have selected the ROM hack, the emulator will load the game. You can then start playing the ROM hack just like any other GBA game.
Note: It's important to only download ROM hacks from trusted sources Like Our Website (Pokemerald) to avoid malware and other security risks.