Super Pokemon Eevee Edition – SPEE take control of a special Eevee that can switch between evolutions at will, allowing you to adapt to any challenge. Explore a new full region inspired by the beloved Generation 2 games, consisting of retro graphics, diverse environments and powerful corrupted Pokemon. Plus, with a Final Fantasy-style music and battle system, this game is a unique take on the classic Pokemon formula.
Download Super Pokemon Eevee Edition RPG Maker XP Fan-Game
| | |
| --- | --- |
| Name | Super Pokemon Eevee Edition |
| Size | 107 MB |
| Version | Completed |
| Console | Windows, Mac, Android (Emulator) |
| Developer | Raonak – DarkDoom3000 – Dream Module |
| Built | RPG Maker |
| Genre | Role-Playing |
| Language | English |
| Latest update | Mar 31, 2023 |
Description
Super Pokémon Eevee Edition is a remarkable fangame that aims to capture the enchanting nostalgia of the second generation of Pokémon games while injecting fresh mechanics not typically found in traditional Pokémon titles. This unique game welcomes players back to the second generation, but with a twist that defies their previous expectations. Assume the role of Gold, a young protagonist who stumbles upon a special Eevee capable of switching between evolutions. Embark on a captivating journey through a brand new region, which draws inspiration from Johto and showcases a rich assortment of the best Pokémon from the early generations. Dive into the inner workings of the game itself, delving into the realm where code and data reign supreme, and discover the existence of hypervisors.
Super Pokémon Eevee Edition offers an innovative gameplay experience by introducing an active-time-battle system, revolutionizing the traditional turn-based approach. In this dynamic system, Pokémon do not wait for their turn to attack; instead, battles unfold in real time, adding a thrilling and fast-paced element to the game. Moreover, the game features unlimited Move-Slots, eliminating the need to forget any attacks and allowing players to utilize a vast array of moves throughout their adventures. To further deepen the gameplay, a comprehensive equipment and crafting system has been incorporated, giving players the ability to enhance their Pokémon's abilities and strategically optimize their team. The fusion of Pokémon and Final Fantasy elements makes Super Pokémon Eevee Edition a truly unique and captivating hybrid gaming experience.
Also, be sure to try out Pokemon Amonite!
Features
Retro Graphics – A blast from the past. Gold/Silver/Crystal style graphics.
Super Eevee – A very special Eevee with superpowers.
Active Battle System – A la Final Fantasy (well, most of them before X).
Four Pokémon per team – All four Pokémon are out on the battlefield and fighting.
Corrupted Pokemon – Optional boss fights or side-quests are required to obtain Pokémon.
Infinite Move-list – Pokémon are no longer limited to four attacks at a time.
Sidequests – Get TMs, equipment, and other useful items by doing tasks for people.
201 Pokémon catchable – from the first few generations (Not all are obtainable yet)
Refining System – Change useless items into powerful ones!
Equipment – Equip certain items on Pokémon in order to to modify their stats.
Trophies – Get notifications for completing tasks.
Travel to the Code World – A dimension of graphical errors and home to the Hypervisors.
Screenshots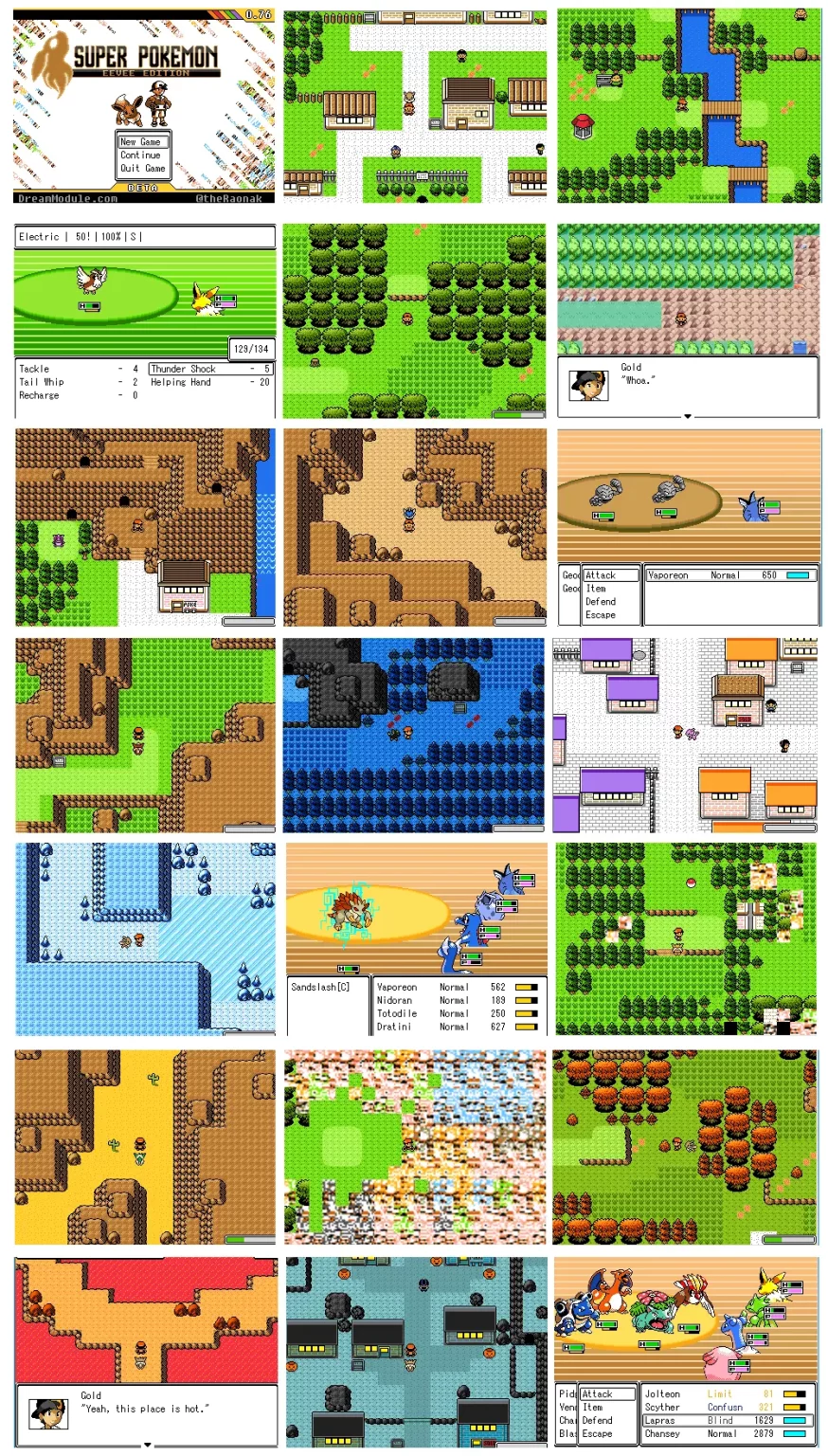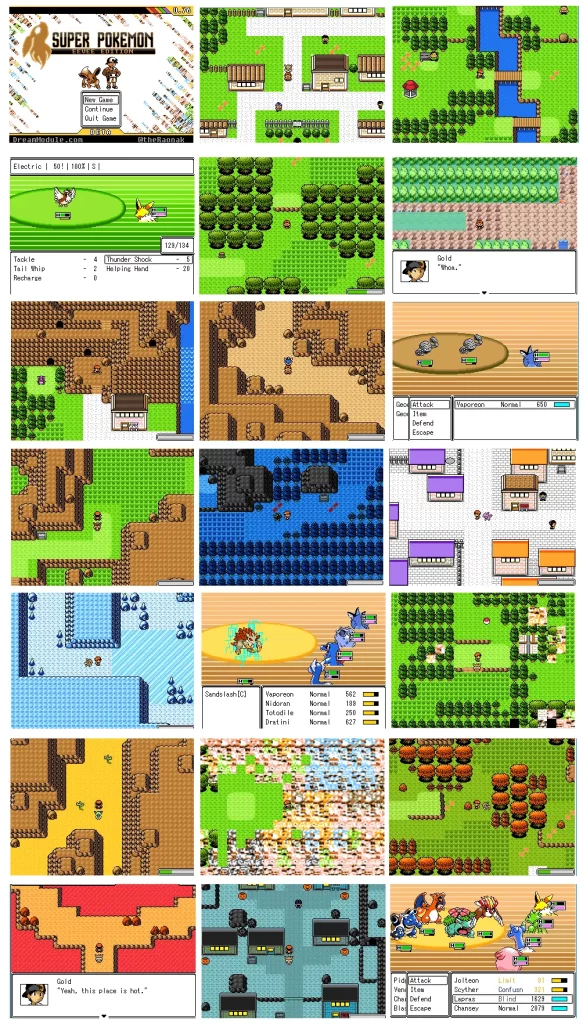 Download
Useful Stuff
Credits
Raonak
Nintendo (for IP)
Gamefreak (for making Pokémon games)
Enterbrain (for making RPG Maker)
Square-Enix (Final FantasyMusic)
Kojima Productions (Sound effects)
The Spriters Resorce (for ripping sprites)
Sony (Trophy jingle)
Hawk (?) (for making IDraw)