Pokemon Quetzal ROM Hack (Pokemon Emerald Multiplayer) by TennmaRH Based on Pokemon Emerald in English. It is now available for download. The last update was on May 31, 2023.
Download Pokemon Quetzal GBA ROM Hack
| | |
| --- | --- |
| Name | Pokemon Quetzal |
| Size | 8.34 MB |
| Version | 0.6.9 |
| Console | GBA |
| Developer | TennmaRH |
| Base ROM | Emerald |
| Genre | Role-Playing |
| Language | English |
| Release Date | May 31, 2023 |
Description
Pokemon Quetzal : Back to the old experiences and memories of playing a Pokemon game with Pokemon Quetzal shall we? Don't wait, just download and enjoy. I really love the aesthetic and the premise of the game!
Also, be sure to try out Pokemon Platinum Redux!
What's New in v0.6.9?
Added 7 New Playable Characters (Elio, Lucas, Rei, Steven, Rocket Grunt, Magma Grunt & Victor)
New Quest System
Updated Game AI
Added Reworked Hisuian Pokemon Sprites
Bugs Fixes & Much More!
Features
Multiplayer (local and online) support for 1 to 4 people
Following Pokemon
You can choose between 44 different starters
You can choose the number of Pokémon accompanying you (0-6).
Choose between 6 playable characters: Brendan, May, Gold, Red, Ash, and Gloria + 7 more characters added in v0.6.4 (Elio, Lucas, Rei, Steven, Rocket Grunt, Magma Grunt & Victor)
Individual, double, and multiple combats against other players from anywhere
Trades with other players from anywhere
Battle in co-op mode (battle together against the other trainers in double battles)
Spectator mode: you can watch the game with other players (and fight alongside them)
All 1-3 gen pokemon are obtainable without the need to trade with other games (including legendaries)
Use HMs outside battle without having to learn them
Customizable shiny rate
Screenshots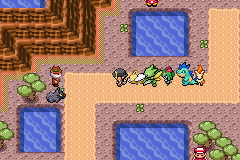 Download
Useful Stuff
General Guide To Play Pokemon Quetzal GBA ROM Hack On a PC
Download an emulator: There are several GBA emulators available for PC, such as Visual Boy Advance (VBA), mGBA, and Higan. Choose one that works best for you and download it.
Install the emulator: Follow the installation process for the emulator you chose.
Download the Pokemon Quetzal ROM hack: Look for a reliable website that provides ROM hacks for GBA and download the "Pokemon Quetzal" ROM hack.
Load the ROM hack: Start the emulator and select the option to open a ROM. Find the ROM hack you downloaded and open it.
Configure controls: If necessary, configure the controls to your preference.
Play the game: You should now be able to play the "Pokemon Quetzal" ROM hack on your PC using the emulator.
Please note that downloading ROMs from unofficial sources may not be legal and could harm your device. OpenAI does not endorse or support such activity.