Pokemon Super Gold 97 is a GBC Rom Hack based on Pokemon Gold in English. And it is now available to download. It was last updated on March 22, 2023.
Download Pokemon Super Gold 97 Rom Complete
Creator: lvl_3
Version: v7.40
Hack of: Pokemon Gold
Updated: March 22, 2023
Intro
The release of the Spaceworld 97 demo inspired me to create a game that I believe could be a "finished" version of the demo. What would the game look like if it followed the path shown at the event? Well that's what I set out to do and what you can find here!
Also, be sure to check out Pokemon Emerald Crest!
Story
You are a new trainer who embarks on a journey to help Professor Oak research Pokemon much like the first games. The story builds on the foundations of the demo and lets you travel across Nihon, based on all of Japan, while collecting badges and catching Pokemon. You'll also have to face off against Team Rocket, who are building a machine that gives them incredible power over Pokemon! Silver is portrayed as it was in the demo – not as an antagonist, but as a fierce rival, much like Barry in Gen 4. The story is admittedly fairly simple, but that was intentional. It was written to feel like the story that could have been in the demo had it been completed.
Features
The current version is v7.40 – The game is fully featured but may have minor bug fix updates in the future
The graphics were fully inherited from the Spaceworld demo, complete with Pokemon sprites, overworld tiles, trainer sprites, etc., along with a handful of sprites that I had to refactor myself to better match the demo's style
Interface elements like Pokedex, status screen, etc. have been redesigned to look similar to the demo
Pikachu mini game! (press Left +B on the title screen and wait for the music to end)
251 Pokemon, the complete Pokedex as it appeared in the demo. The main difference from an "official" game is that all 251 Pokemon are available in a single save file.
New key items that match the game's story
Evolution Stones that match the demo (Heart Stone, Poison Stone), plus an additional Covenant Orb that allows for the evolution of Pokemon that normally need to be traded
New in-game status boosters, taken from the demo
8 Badges, Pokemon League, Full Length Game
A new original post-game map that was not present in the Spaceworld demo
Type table inspired by the demo
Full support for the original Game Boy
Full support for the Super Game Boy
Full support for the Game Boy Color (with two different color modes)
Improved level curve compared to the final gold game, and the levels are generally higher, making for a slightly more difficult game, but still not overly difficult
Additional rematches for Gym Leaders and Pokemon League
skateboarding!
Additional moves based on scrapped moves from the demo
Several beta tracks
Advanced bedroom decoration system
Screenshots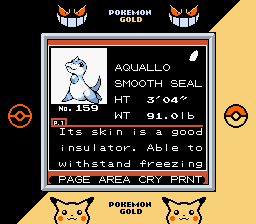 Download
Credits
Anyone and everyone who worked on the pokecrystal and pokegold disassembly or wrote the wiki tutorials!
Anyone who mined data from the Spaceworld demo!
Spaceworld 97 Reforged team for some content brought over to Super Gold 97 and support with bug fixing!